This is the Tucson History section of
The Broadcast Archive
Maintained by:
Barry Mishkind - The Eclectic Engineer
Last Update 10/14/20

---
Tucson, Arizona is my home. I've been in this market for many years, along with some time in Flagstaff, Phoenix, Denver and Los Angeles.
Tucson may not be a top 20 (or even top 50) market, but there is a lot of history here ... and memories for many folks who passed through on the way to the "Big Time." We invite you to visit, enjoy, even share some history with us.
---
TUCSON RADIO HISTORY:
---
IN THE BEGINNING
The first station in Tucson appears to have been built by the University of Arizona in 1921. In 1923, 5YP mutated into KFDH, but operations were abandoned in 1925 as administrators deemed it too expensive to operate. In May of 1922, the Arizona Daily Star was licensed to operate KDZA, which appears to have lasted about a year. Of course, the Citizen (the evening paper) also had to have one, so in July 1926, KGAR had its start.
KTUC
The oldest surviving local station, KTUC, is a descendant of the Citizen station. Another early local station was KVOA, now KCUB, which was licensed on May 27, 1929. (KVOA lives on as the call sign for Channel 4).
In the 1940s, and through the 1950s, along with network programs, local morning shows were popular. This was KTUC's heyday. Lee Little.
KTKT
One of the major stations in the 1950s and 1960s was KTKT. KTKT started out on 1490, then moved to 990 as a 10,000 watt daytime (adding back nights a few years later). Here's a look at the control room in 1954. Remember, these were the days before carts! (Whose picture is that on the wall?)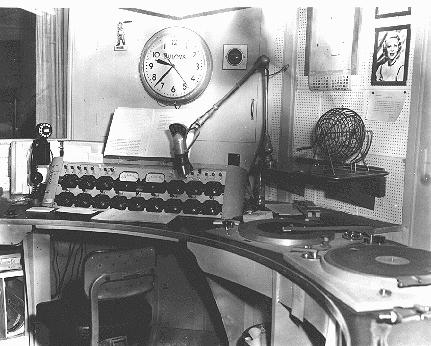 This picture is courtesy of David Lawrence.
As with many Top 40 stations in the 50's and 60's, KTKT had stratospheric ratings. Their staff was the next best thing to local royalty.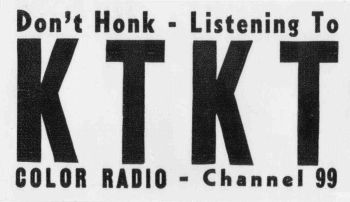 In some ways, Tucson radio became much more interesting in the 1960s. KHOS came on the air on 940 to compete with KMOP for the country audience. A fulltime station, KHOS soon dominated.
In the mid-1960s, John Walton, Jr, owner of reasonably successful KFIF -1550 (a daytime station), desperately wanted a fulltime station so he could compete head on with KTKT. Not willing to wade through hearings or wait for Rules changes, Walton GAVE 50,000 Watt KFIF to the University of Arizona, and purchased KTAN - 580. After new studios were constructed and other upgrades, KIKX debuted with a sharp sound that, in some ways, was too good for Tucson.
Unfortunately, before KIKX made its mark as a rocker, Walton (son of Texas oil people), had cash flow problems, and much of the best staff "evaporated." KIKX suffered a fatal blow in 1974, when a misconceived disc jockey contest promotion turned into a fake news report announcing the DJ's kidnapping. Concerned listeners phoned the Tucson Police Department by the hundreds. The police department then contacted the radio station. Unfortunately, compounding matters, staffers initially told the authorities that Gary had indeed been kidnapped. Complaints to the FCC started a 10-year legal fight which eventually cost the station its license. Although they eventually even recast the station to a country format, KIKX went dark in 1981. KTKT was left standing.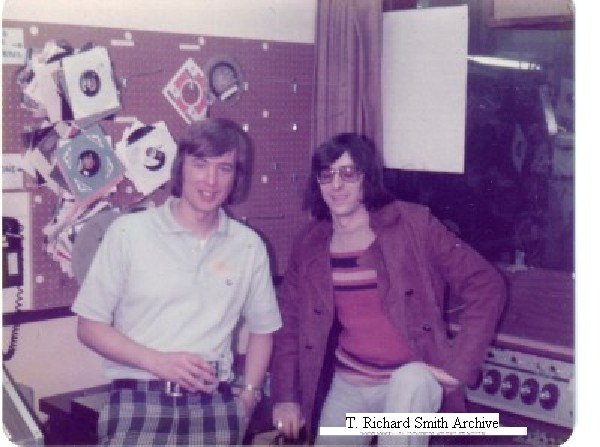 Jim Gillie / Ed Alexander
Over on the FM dial, KWFM (92.9) was making quite a name for itself as an Alternative Rocker. Purchased by Sandusky, it had a highly motivated staff of music programmers and disc jockeys. KWFM played almost anything but the Top 40. It had an intensely loyal audience, even if the equipment was a bit behind the times. A move from downtown to the Great Western Bank building in mid-town gave listeners better access to the station.
KHYT
Another very interesting change in the market came in the mid-1960s. Bob Scholz purchased daytimer KMOP -1330 and changed it to a Top 40 station (KHYT). To overcome the major competitive disadvantage, Scholz immediately started on a long and winding 15 year quest to get a fulltime signal.

During the intervening years, Scholz moved an FM allotment from Naco, AZ to Tucson, but lost out on the license at the FCC's comparative hearings - because he already owned a station.

Undeterred, Scholz eventually succeeded when the FCC passed a Rulemaking permitting each community to have two full time signals. At the time, South Tucson had none, so KHYT moved to 38th and 8th in South Tucson and began 24 hour operations in 1980.

Sadly, shortly after achieving success, Scholz died of congestive heart failure, launching the station into a turmoil that ended in bankruptcy.
With KMOP gone, KCUB converted to country against KHOS. Jim Slone had a fortunate arrangement whereby he gained control, and later the ownership, of KCUB. He later acquired KNDE (formerly KTKT-FM, then KFMM) in 1983 renaming it KIIM and also running country music. Few of the other owners ever attempted any real effort to fight the AM/FM country format combo, leaving Slone with a true gold mine.
Let's move along in the 70's to this picture of Jim Bednarek at KTKT in 1978. The console was a Collins 212G. In the background, there are Gates Criterion cart machines.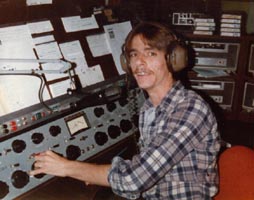 INTO THE 80s
In 1979, KHYT and KXEW both received Construction Permits (CPs) to build nighttime facilities, with a city of license specified as South Tucson, a one square mile city totally encircled by Tucson itself. In anticipation, Scholz (and consultant Robert W. Morgan) already had brought in Rich Brother Robbin to program the station. Moving toward a Dance Music format, daytime KHYT shot up to an 8.1, stunning the local industry.
In 1980, I built new studios for KHYT in South Tucson. I especially liked the way the "bridge" came out ... so that the remote control and monitoring gear was close, but not crowding the DJ. The console was a custom unit by Tangent Systems in Phoenix.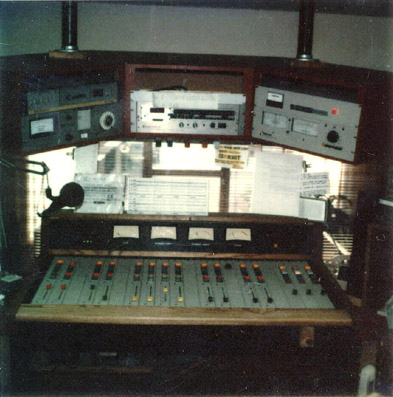 KHYT Control - 1980
The operator could see through the lobby to the front door.
Working its way into a more typical Top 40 rock format as it went 24 hours, KHYT found some success. But when Scholz died abruptly of a heart attack in 1981, the station began to unravel, and as KMRR - 1330 the station nearly ended with a tiny whimper in 1994/95, with the owner in prison and the station in bankruptcy. Only a last minute effort prevented the license from being deleted.
1981/1982 was a sad time for Tucson radio.. Bob Scholz died shortly after winning a 15 year battle to get a fulltime signal in Tucson. KIKX was gone. And Bob Cooke, a popular DJ on KWFM was shot and killed by an obsessed listener.
In 1983, Sandusky sold KWFM to Dennis Behan. The station was combined with KCEE - 790, at the studio site on Silverbell and then sold to American Media in 1986. This was interesting on several levels. KCEE had sold off its original FM to Lotus a few years before, with KCEE-FM (96.1) becoming KLPX. Additionally, the KWFM format was "tamed" by its new owners. Hardcore rock listeners had their choices reduced a bit. However, KLPX continued to program a consistent format of harder-edged rock music, and its deeply loyal audience grew. Here is a look at the KLPX Control Room as it appeared in 1983.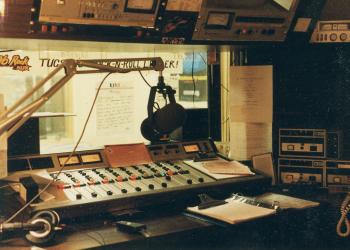 KLPX Control - 1983
RIMSHOTS AND OTHER STATION CHESS MOVES
In 1985, Steve Russell and Tom Curley managed to snag a CP for a station in a somewhat remote farming community, Marana. KOPO - 98.3 was an unlikely station, but had a great reach for a Class "A," due to being up high compared to the Tucson valley. Purchased by KXEW in 1986, the station went bi-lingual. At about the same time, KFLT was in the process of buying the 50 kW station being built on 830. It spun off 1450 to some local folks, lead by Rich Brother Robbin, and turned up as a "salt and pepper" urban format, "Power 1450." Matched with a Green Valley FM, KFXX, the pair of stations had great programming, but were at a disadvantage in competing with the established full power stations. K-FOX soon became beautiful music KQYT, while 1450 drifted through Z-Rock to Spanish as KTZR.
As the 1980s closed, KRQQ took a prominent position atop the ratings (for a while, the highest rated Top 40 station in the US) under PD Clarke Ingram, KIIM (country) and KMXZ (Lite Rock) tended to juggle positions 2 and 3.
THE 90s
KTZR and KQYT were sold to a Bill Yde. Under his headship the stations completely foundered. KQYT was eventually sold to Lotus, and became KFMA, moving to the county fairgrounds, where it could toss 50 kW at the city. KTZR went to an Hispanic family, but eventually was seized by the government in a tax situation, and sold at auction to Art Laboe, who previously had purchased KXEW and KOHT.
In terms of ratings, KRQQ and rock began fading in the early 90s and most of the decade saw KMXZ and KIIM trading places atop the ratings.
In the mid 90s, the 107.5 station was finally built, after some 20 years of proceedings. Jim Slone purchased it, and programmed oldies as KHYT (FM). KOHT went urban under Laboe. A Chicago pathologist (Stan Sprei) bought the remnants of KMRR - 1330 for his wife; it returned as satellite talker KJLL.
Station sales were happening all over. KNST and KRQQ were purchased from Nationwide by Tucson Radio Partners; American Media, which had bought KWFM and KCEE from Dennis Behan, sold to Bill Phalen's Prism Radio Partners ... and all four were combined into Tucson's first duopoly under Prism Radio. Eventually, SFX Broadcasting purchased the group and sold to AM/FM ; Slone purchased KTUC and KOAZ (97.5 - Oro Valley); Journal purchased KZPT (104.1), an"89-90" station ("80-90" refers to an FCC Rulemaking in 1980 designed to add more local stations by granting them to local and minority groups) and the Oracle station KGMG (106.3); KQYT (92.1) was purchased by Lotus and renamed KFMA; KQTL (1210 - Sahuarita) was purchased by Radio Unica.
INTO THE 21st CENTURY
The 1990s saw a lot of consolidation and ended with virtually all the major Tucson stations owned by one of four large groups. Eventually, AMFM/Jacor and Laboe sold to Clear Channel, Jim Slone sold to Citadel.
By 2002, Clear Channel Radio owned KNST, KRQQ(FM), KWFM-FM, KOYT(FM), KTZR, KOHT(FM), and KXEW. Journal Broadcasting had KMXZ (FM), KFFN, KZPT(FM), and KGMG(FM). Lotus had KTKT, KLPX(FM), KFMA(FM), and KCMT(FM). Citadel owned KCUB, KIIM(FM), KHYT(FM), KTUC, and KSZR(FM). That included most of the best 20 signals of the 33 locally licensed stations. Toss in the three U of A licenses, four religious stations, a few more Spanish language outlets, a couple of "Big Band era" stations, and a local "community" station, and you pretty much sum up Tucson Radio.
The last statement should not be taken to marginalize Spanish radio in any way. One very interesting effect, something seen in many cities, was the growth of the Spanish-speaking audience. Stations programming to them are making huge gains in audience and billing as the 2000's progress - a major difference from other countries which do not allocate 15% or more of their licensed stations to minority language. Clear Channel and Lotus have been in the forefront of these changes. Meanwhile, Multicultural Broadcasting bought KQTL.
Jim Slone couldn't stay out of broadcasting, and purchased KEVT, 1030, which had been operating in Spanish. He ran it for several years and sold it in 2009 to the local religious group running KVOI-690 and KGMS-97.1.
In early 2006, Phyllis Ehllinger, owner of KSAZ-580 died, leading to natural speculation as to its future..
The economic downturn in late 2008 put extreme stress on the consolidators. Clear Channel, Citadel, and Journal all made sharp staff cuts and expanded voicetracking. Expectations in 2009 were that one or more would go bankrupt, there were many reports of them being close to default with the lenders; the stock price of Citadel dropped well below $1.00, for example. The industry, as a whole, suffered the cost-cutting. Only the corporate executives seemed to making any money. Some thought radio wouldn't survive the Internet.
2010
Cumulus bought Citadel, and operation of KCUB/KIIM, etc, is now out of Atlanta.
Broadcast veterans who visit studio sites in Tucson are finding the same issue that afflicts stations all over the country. It is hard to find a live person in the building! Satellite, voice-tracked, and IP delivered programs are now the majority of programming in the US and, sadly, Tucson. In 2014, Clear Channel Radio rebranded itself as iHeartRadio.
2016 LPFM's Hit the city
The LPFM land rush of has brought some additional stations to the Tucson market, aside from the long-running Pueblo High's KWXL - 98.7 and the Pascua Yaqui's KPTY - 100.7. A new LPFM in downtown, another Pascua Yaqui station (KPYU-LP) in Old Pascua Village (Grant and I-10) and the Tohono O'odham's LPFM to cover the San Xavier District of their Nation are on-line to add to local sounds.
The so-called "AM Improvement" plan from the FCC, which so far only has managed to permit AM stations to buy (and move - up to 250 miles) an FM translator. This has presented a major gold rush around the country. With few open channels in the Tucson area (due to proximity to Phoenix and Mexico) some AM stations (KGVY, KFNN) got translators, but the main stations got little more.
Good Music Radio began liquidating its holdings in July 2018, with KGMS (940) going to Wilkins Radio.
Journal Broadcast exited the Tucson Market in December 2018, as did Good Music Radio. Journal sold its AM, KFFN (1490) and KMXZ (94.9) to Lotus, KTGV (106.3) to Bustos Media, and KQTH (104.1) to Family Life.
In Summer 2019, Family Life sold their AM and 101.7 translator to Tucson Radio LLC, a local company that built a studio downtown and changed the format to a soft oldies format
2020 - Pandemic and Beyond
The pandemic hit Tucson radio, much like the rest of the country, with advertising revenues way down - at least until the election spending dropped a lot of money locally. As we head into the 2020's, the biggest problem for radio is audio streaming on the Internet and car radios that are starting to drop AM and add Internet fo spreading the programming no matter where the driver may go. A few stations are responding by focusing more on local news and events.
Are we missing something? Let us know.
-30-