This is the Tucson History section of
The Broadcast Archive
Maintained by:
Barry Mishkind - The Eclectic Engineer
Last Update 5/9/03

---
Remembering Tucson Radio ... From the Beginning!
by Russ Jackson
2nd Edition, Digest version
---
NOTE: This is a condensed version of a document by the same name that contains more details, station brochures and schedules from the era covered, written with my old friend, the late Eddie Jackson. It does not pretend to be complete, but reflects my memories of a radio era we participated in by working at KCNA, KVOA, KAIR, KMOP, KTAN and KHYT. The full document is available at the Tucson Public Library, the University of Arizona Library, and the Arizona Pioneers Historical Society. Many thanks to Barry Mishkind for his assistance with posting this version. For more information, you can contact me by email Editrail@aol.com Russ Jackson
(Note: WHERE ARE THEY NOW? Check out this page!)
---
As the Lone Ranger's announcer used to say, "Return with us now to those thrilling days of yesteryear!"
THE EARLY YEARS
KTUC (at AM 1230) was the first Tucson radio station, starting broadcasting on July 10, 1926 from studios at 30 S. Stone. KVOA radio, now called KCUB (AM 1290), came on in 1929 at 1260 on the dial, and was owned by a Tucson attorney, Robert M. Riculfi. KVOA ownership was transferred to the KTAR Broadcasting Company of Phoenix in January of 1939. KVOA settled eventually into new studios at 48 East Broadway. KVOA was affiliated with NBC's radio network, and KTUC with CBS. In March, 1941, the FCC moved KVOA's frequency to 1290, and KTUC to 1400.
Programming in the early days was Phoenix dominated, because both stations were owned by Phoenix-based companies. KTUC was then owned by KOY, and both KOY and KTAR operated state-wide networks that fed programs, mostly 15-minute newscasts, to local stations in Yuma, Globe, Safford, Douglas, Clifton, Kingman, Flagstaff, Winslow, Bisbee and Prescott.
Local programs on both KVOA and KTUC were squeezed around national network and state network commitments. Music from records as we know them today (and in those days were 78 rpm discs) was rarely broadcast on radio. The term "disc jockey" had not been coined yet. For local music programs stations subscribed to large "transcription libraries" which were big 16-inch discs with many songs on them, made specifically for radio stations. They played at 33 1/3 rpm and were the forerunner of the long-play albums, cassettes and CD's of today.
KVOA's studios on East Broadway were all new in 1939. NBC affiliated stations usually bought their equipment from NBC's owner, RCA, and KVOA did. There was a big studio with a grand piano, a control room and an announce booth. The Manager was R. B. "Bud" Williams, the Program Director was Ben Slack, and the Chief Engineer was Ray Holsclaw. All of them stayed in Tucson with KVOA into the 1950's, with Holsclaw building and Slack programming the new Channel 4 TV station, which also was RCA equipped. Ray remained with KVOA until his retirement.
KTUC had the bigger studio of the two stations when they moved to 800 East Broadway, next to Monte Mansfield Motors (then the only local Ford dealer). The transmitter tower was in a field in back of the Ford garage. The Manager of KTUC was Lee Little. George Bradley was Sales Manager and Wayne Sanders was Program Director. Wayne Sanders had been an orchestra piano player before coming to Tucson for his son's health. He did a daily live program of piano music from the KTUC studio.
AFTER WORLD WAR II
The FCC received applications for three new radio stations for Tucson after the war, to operate at 1340, 1450 and 1490 on the dial (with 250 watts). Hearings were held to "determine the fitness of applicants to serve the Tucson public," and the first station granted was KOPO (AM 1450). Manager E. S. Mittendorf quickly built studios on the Miracle Mile property where Channel 13 was later built and remained until moving to its far northwest side location. Before the TV building was constructed in 1952 there was a long sidewalk from the street to the radio building, which was eventually covered by the TV studio building. The self-supporting transmitting tower was built behind the building, and was also the original KOLD-TV Channel 13 transmitting tower, which can be seen in the faded photo. KOPO was owned by the same group that would put KOOL radio and TV on the air in Phoenix, continuing control of Tucson radio by Phoenix interests. Heading that group was cowboy movie star Gene Autry. KOPO was Tucson's first ABC radio network affiliate.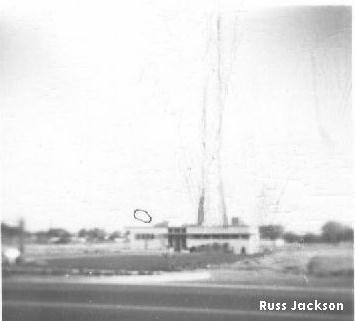 KOPO radio building and tower at 115 W. Drachman in 1946.
The original Channel 13 building was built in front of this site.
The Gene Autry-owned station purchased Raytheon audio and transmitter gear.
The second post-war station to take the air was KCNA (at AM 1340), known as Tucson's "home-owned station" because it was the only one not owned by some company in Phoenix. KCNA also had a famous owner, the author and Tucson resident Erskine Caldwell., The KCNA studios were built at the corner of 16th Street and Cherry Avenue, where the station signed on in April, 1947.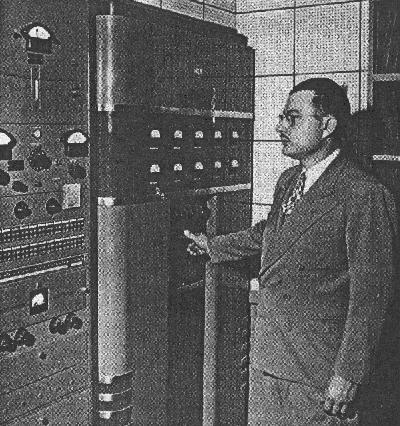 Chief Engineer Bill Karpisek was in charge of KCNA's
equipment. This is KCNA's RCA BTA-250K 250-watt transmitter and audio rack.
Note the size of the low power transmitter, bigger than a modern refrigerator.
The building still stands, but is now a cable TV building (after spending some time as the KTUC/KFMM studios). The original 1947 tower which was built in back of the building was later moved to Mt. Bigelow to support the transmitting antenna for KDWI-TV (now KGUN-TV), Channel 9. KCNA was unique for those days, as they did not initially affiliate with a network. As an "independent" station they had to produce all of their own programming. Wayne Sanders was hired away from KTUC to be the Manager. In 1948 KCNA became an affiliate of the Mutual Broadcasting System.
The third frequency, 1490, was won by a group which never put the station on the air. They constructed a building on North Stone, but before equipment arrived they applied for another frequency and ultimately gave up on the project.
In the Fall of 1949 came the big network "swap". Gene Autry was riding high on his CBS radio program, but it wasn't being heard on his stations in Arizona because KOY had the CBS network for its stations, so Autry engineered a change so that his KOOL in Phoenix could be with CBS. This caused big realignments in Tucson. KTUC followed its owner, KOY, to Mutual; CBS moved to Autry's KOPO, and ABC to KCNA. The listeners were understandably confused.
INTO THE FIFTIES
In December, 1949, Tucson heard its fifth station, KTKT (at AM 1490). Tom Wallace, a pioneer Chicago TV personality, put KTKT on the air, and his sons Tom Jr., and George came to Tucson to run it. (See photo page) Because all the existing networks were taken, KTKT became an independent, and its programming was mostly music. For a short time they were an affiliate of the short-lived Liberty Broadcasting System formed around the play-by-play sportscasts of "The Old Scotsman" Gordon McLendon. With the advent of TV a few years later KTKT was positioned to provide the growing music and news service which still characterizes radio. Wallace built his station on Elm, just west of Miracle Mile, in two war surplus military buildings which were moved onto the site. In the early 50's Chuck Blore (spelled Blower then) became one of Tucson's most popular personalities on KTKT, with his six-hour afternoon program called, "Let's Play Records." Blore was a very creative radio personality, and went on to become one of radio's top programmers, starting Los Angeles' first "Top 40" station, the legendary KFWB in 1958. He later owned one of the top commercial production companies in Hollywood.
A big event for Spanish-speaking listeners came in September, 1953, when KEVT came on the air (daytime only at AM 690) as Tucson's first station appealing to the Hispanic-American audience.
KCNA decided to increase its power in 1951 so people outside the Tucson area could hear the station. KCNA saw they could fill a need and moved to 580 on the dial, but their city audience did not follow them. There was too big a gap between 580 and the stations at the other end of the dial, and people didn't make the effort to change their dial habits in this era before pushbuttons. But, KCNA could then be heard from Lordsburg to Sells and from Cananea to Globe with its 5,000 watts of power, as KSAZ can today on the same frequency. KCNA's big "show" was the country music "Arizona Hayride" with Bob McKeehan in the afternoon. The new KCNA transmitter was constructed on what was the then-uninhabited "Swan Road extension north from River Road." The three towers are still there, although 580 successor KSAZ transmits from a new location in Marana.
As TV competition forced radio stations to make financial decisions in the 1950's, the KTAR organization decided to sell both KVOA radio and TV to San Diego ex-Congressman Clinton D. McKinnon in 1956. McKinnon acquired an excellent hard-working staff which included Program Director Larry Schnebly (see photo page). KVOA had moved its radio studios to the radio transmitter/new TV station site on Elm Street in 1956, and as a temporary facility two huge packing crates had been converted to a radio station control room and announce booth. Permanent studios in a new part of the building were constructed the following year.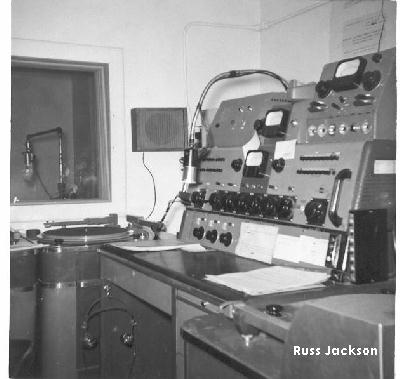 KVOA 1290 radio control room built in 1956 adjacent to the original radio transmitter room on W. Lee Street after the Channel 4 expansion.
It was all RCA equipment, purchased in 1939 and moved from the E. Broadway studio site.
An RCA reel-to-reel tape recorder was in an adjacent audio rack, with its remote control unit placed on top of the console.
KTKT was doing well, but by the mid 50's Tom Wallace thought they could do better and, like KCNA, reach more Southern Arizona listeners. They filed to move to 990 on the AM dial, with 10,000 watts of power and a directional antenna system, operating only from sunrise to sunset. Engineer Nat Talpis supervised construction of two towers, located off West Grant Road where the present KTKT/KLPX studios are located. Within minutes after KTKT signed off 1490, KAIR signed on and continued playing the music which the audience was used to hearing. Hal Peary, known to network radio audiences as the "Great Gildersleeve" was one of the KAIR owners, and he taped voice tracks for a daily program in Hollywood which was mailed to Tucson for broadcast (voice tracking isn't a new idea!).
To turn KTKT around, Wallace hired young Frank Kalil to do the programming, and a legend was born. The energetic Kalil programmed the new "rock and roll" "Color Radio" "Top 40" style music and news format which quickly moved daytime-only KTKT into Tucson's number one spot where it remained into the early 1980's.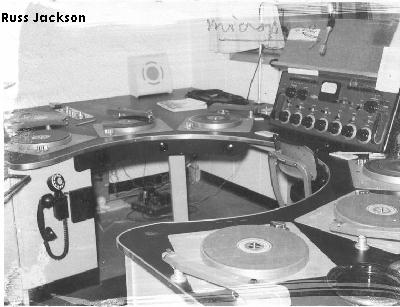 KTKT 990's studio in the Arizona Land Title Building on N. Stone, 1958, with six turntables and a small Collins board.
A reel-to-reel Ampex tape recorder and a Rek-O-Kut disc cutter were in the production room.
Carts did not exist yet, so all production was on discs.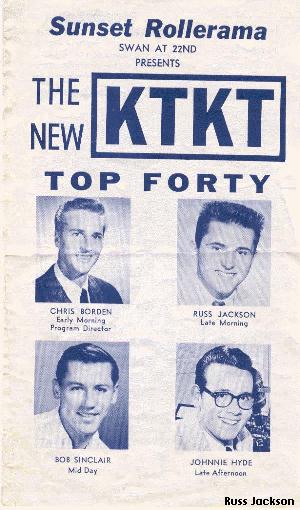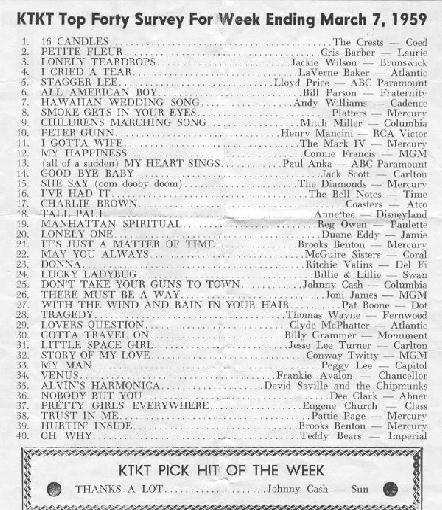 FM radio was the total "stepchild" of the bigger AM medium in the 1950's. Tucson's first FM station was KTKT-FM (at 99.5), where KIIM-FM is positioned today. Tom Wallace put the station on the air because classical music was not being heard in Tucson, and he hired Jack Frakes, the Rincon High School drama teacher as his first announcer and classical music programmer. In 1959 KTKT AM and the FM (changed to KFMM -"FM on the Mountain" - in 1958, to commemorate a move to Mt. Bigelow that was never made), combined on Sundays to demonstrate something new stereophonic sound. Before multiplex stereo as we know it today the only way radio could transmit two simultaneous channels of sound was to put one channel on the AM station and the other channel simultaneously on the FM, which resulted in the audience having to have two radios to hear it. The first stereo program in Tucson was on KTKT and KTKT-FM from 2 to 3 PM Sundays, played from the FM studio.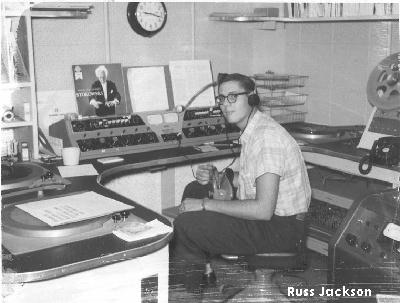 KTKT-FM classical music studio in the same building, 1958, with the first stereo equipment in Tucson (announcer unknown).
Stereo consisted of a 1-hour weekly show from this studio that required one "channel" on AM 990, and the other on FM 99.5
In 1960 the Wallaces sold KTKT to the Leland Bisbee group, and a new manager, Phil Richardson, took over and led the station to full-time operation with l,000 watts at night, and financially the station began to prosper. The FM was purchased by KTUC's owner, Lee Little.
The Country music audience got their first station in 1957, when Phoenix broadcaster Ray Odom opened KMOP (at AM 1330). Small studios were built in the Tucson Inn, which was located next to KOPO-AM-TV on West Drachman, and a short tower was built next to the Sports Center on West Congress. For a 500-watt daytimer with a small staff KMOP did extremely well with personalities Odom, Smokey Stover, Bob McKeehan who had moved over from KCNA, and George Richey who later became country singer Tammy Wynette's manager and husband.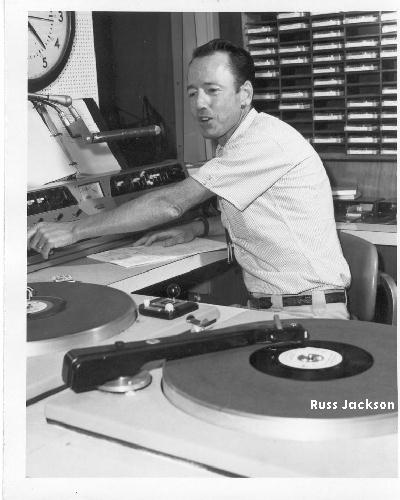 KMOP, 1330, country music personality Bob McKeehan, 1963, in the station control room.
Note the cart rack, but music was played from 45 rpm records on the two big 16-inch Gates turntables.
McKeehan later owned a radio station in Tennessee. (KMOP publicity photo)
When Channel 13 changed its call letters to KOLD-TV the radio station changed to KOLD, reflecting its Phoenix parentage with KOOL. Other stations came along in the 1950's, as Tucson's population increased. KCEE (at AM 790, now KNST) started in 1958 with a daytime-only signal, and played mostly ballad music.
Clinton D. McKinnon sold KVOA radio in 1958 reportedly because of conflicts with the KTAR management in Phoenix, but kept the TV station. Gordon Broadcasting purchased the radio station in 1958, and dropped the NBC affiliation for an independent pop music format, hoping with its fulltime signal to beat daytime-only KTKT.
Moving briefly into the 1960's, new radio stations appeared regularly. In 196l George Bradley tried his hand at station ownership with KFIF (at AM 1550, now U of A-owned KUAZ)), which had a big 50,000 watt daytime signal from a transmitter near Marana. KHOS (at AM 940) came along to compete with KMOP for the country audience with a fulltime signal, and KXEW (1600) came along, to challenge KEVT for the Spanish-speaking audience.
To use an old cliche, the one constant in radio is change. While stations and people came and went in the early days, the Tucson radio listener was always entertained and informed by a dedicated group of radio people who were intent on making the radio a part of the lives of all. That dedication resulted in a quality product, very saleable, and yet respected by the public. As the broadcasting industry increasingly turned to TV as the focus of its effort in the 50's, Tucson radio responded to competitive forces, as today, by adapting to what the listeners found entertaining and useful.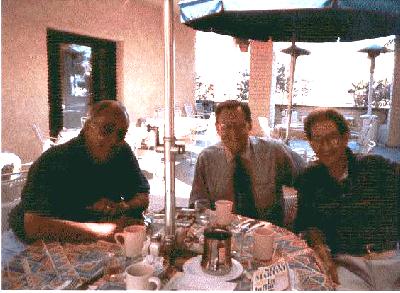 Three pioneer Tucson radio/TV broadcasters in a 1996 photo.
(Left to right) George Wallace, whose family built KTKT; Jack "Jake" Jacobsen from Channel 9; and Larry Schnebly, KVOA radio PD in the mid-1950's.
All three are retired from KGUN-TV after long careers in Tucson broadcasting.
Want more?
To see where Tucson Radio is at today, go to this page
Where are they now? page