This is the Network Histories section of
The Broadcast Archive
Maintained by:
Barry Mishkind - The Eclectic Engineer
Updated 6/2/06
---
If you see an error, or can add to the information on any of the networks, please do let me know!
---
Curiosity point: How expensive were network operations?
In March 1955, AT&T lowered the audio tariff on long lines by dropping the daily minimum from 16 to 8 consecutive hours, and reduced the per hour/per mile charge from $5 to $4.50. (This would make a NY-LA line cost approx $108,000 a day.)
And you thought your phone bill was high? <g>
---
Network News:
The first daily network news program was on the NBC Red Network. Begun 2/24/30, it featured Floyd Gibbons.
The second daily network news program was on the CBS Network. Begun 9/29/30, it featured Lowell Thomas.
By 1933, a "Press-Radio War" developed as the newspapers saw radio as a real danger. In many cities, newspapers stopped printing radio schedules, so as not to promote the competition. The Associated Press (AP), United Press (UP), International News Service (INS) at the urging of newspapers worried about losing market share to radio newscasts, cut off broadcasters from using their news product. At first broadcasters agreed to stop running news, except for stations owned by newspapers. However, quite a few stations refused to acquiesce, and in less than a year the "Biltmore Conference" agreement was history. Although the news agencies were again serving radio, led by CBS the radio industry began to build its own news resources, never again to be at the mercy of the newspapers.
---
Started: 1985
An Indiana Farm Radio Network serving some 60 Radio Stations.
---
Allegheny Mountain Radio Network
Started:
WTRN Tyrone
WEND AM/FM Ebensburg
WGMR-FM Tyrone/State College
WBLF Bellefonte
WKBI AM/FM St. Mary's
WFRM AM/FM Coudersport
This network ran as a subset of Mutual Radio, and used a mixture of 67 kHz SCA transmissions and phone lines to carry the programming.
---
The Amalgamated Broadcast System
Started: September 1933.
Original stations:

Amalgamated was the creation of the actor Ed Wynn.

ABS went bankrupt in November 193x.

---
ABC - The American Broadcasting Company
Started: 1943 (from the foundation of NBC Blue network)

Original owner: Edward Noble.
After the FCC began in 1937 to devise a way to separate NBC's two networks, RCA sold NBC-Blue to Noble. In 1945 The Blue Network, Inc, bought the name "American Broadcasting Company" from George Storer.
On January 1, 1968, ABC decided to "segment" the hour and built four networks: ABC - Information, ABC - Entertainment, ABC - Contemporary, and ABC-FM.
ABC-I ran at the top of the hour
ABC-F ran at :15 past the hour.
ABC-E ran at the bottom of the hour
ABC-C ran at 55 past the hour
Paul Harvey was moved to ABC-E.

ABC merged with Paramount Theaters 2/12/53.
ABC was merged into Capital Cities in 1986.
ABC was merged into Disney in 1996.
---
ABS - The American Broadcasting System
Started October 1934
Original stations: 18

This was George B. Storer's network. It ran 16 hours daily with affiliates from New York to St. Louis.
Storer sold the rights to "American Broadcasting Company" to Edward Noble in 1945.
---
Affiliated Broadcasting Company
Started: May 1, 1936
formed in 1936 among low-powered local stations in WI, IL, and IN, with a couple of affiliates in St. Louis and Minneapolis. It was also known as the "Insull" chain since it was organized by Samuel Insull, a utilities magnate (and possibly something of a scoundrel) in Chicago (http://www.chicago-l.org/figures/insull/).
Stations were:
Wisconsin: KFIZ (Fond du Lac); WKBH (La Crosse); WHBY (Green Bay); WOMT (Manitowoc); WHBL (Sheboygan); WIBY (Poynette); WRJN (Racine)
Illinois: WHBF (Rockford); WCLS (Joliet); WTAX (Springfield); WJBL (Decatur)
Indiana: WTRC (Elkhart); WWAE (Hammond); WBOW (Terre Haute); and WOEA (Evansville, IN); WIND (Gary); WLBC (Muncie).
Eventually 21 stations signed on, including WKKB (Dubuque, IA); WDGY (Minneapolis); WIL (St. Louis)
Programming included Cubs and White Sox games.
Bill Kirkpatrick notes: Insull was forced out in September, 1936. Rumor was he was too much of a free spender on the project. I'm not sure how long the chain lasted, but I know that KFIZ was affiliated with a different network by the 1940s, so it couldn't have been more than a few years.
---
The American Network
Started:

This was an FM network in New England.
The American Network featured the first FM network sponsored program, underwritten by the Socony-Vacuum Oil Co.
---
AP Radio
AP Network News
AP All News Radio
Started: 1974
---
The Associated Broadcasting Corp./System
Started: September 16, 1945
On September 16, 1945 The Associated Broadcasting Corporation made it's coast to coast debut at 11:00 AM Pacific time from ABC's affiliate WWDC Washington. ABC's President was Leonard A. Versluis. ABC's headquarters was in Grand Rapids MI where Mr. Versluis owned WLAV. ABC started with 22 affiliates including KWJJ Portland.
Associated filed a suite to stop the American Broadcasting Company from identifing it's chain as ABC. The American chain had started just three months earlier on June 15, 1945. In December 1945 an agreement between the two networks was reached. The Associated chain would change it identity to ABS or The Associated Broadcasting System.
Not quite a year later, with 23 affiliates, including WMCA New York, ABS threw in the towel.
End of operations: April 28, 1946
With help from Craig Adams
---
The AT&T Network
Started: January 4, 1923
Original stations in experimental operation: 2 - WEAF, New York and WNAC, Boston.
Original stations in regular service (7/1/23): 2 - WEAF, New York and WMAF, Round Hills, MA.
Started as an experiment, the AT&T links essentially begat what we today would call a "network".

This first "network" operated for a total of three hours, comprising a number of orchestral selections and cello solos, contralto and baritone vocalists, and ... a bird mimic.

On June 7, 1923, four stations broadcast from the annual meeting of the National Electric Light Association at Carnegie Hall in New York City.The broadcast lasted a little over an hour.

The stations were:
AT&T's WEAF, NYC
GE's WGY, Schenectady, NY
Westinghouse's KDKA, Pittsburgh
Westinghouse's KYW, Chicago.

The first regular network service started July 1, 1923 and operated through the summer of 1924.

Additions to network:

07/04/23 - WCAP, Washington, DC.
10/10/23 - WJAR, Providence, RI.
12/ 6/23 - KSD, St. Louis
WDAF, Kansas City
WFAA, Dallas

Later: WOO, WOC, and others.

The first scheduled commercial network programs began on October 6, 1924, with a network consisting of WEAF, WCAP, WJAR and WGR, Buffalo.

First commercial network program: "The Eveready Hour."

By 1925, the network had 13 stations in 12 cities. More stations were added as AT&T was able to extend broadcast-quality circuits to additional cities.

When AT&T decided not to remain in the broadcasting business, the network was sold with WEAF to NBC in 1926.

---
CBS - The Columbia Broadcasting System
---
CNN Radio
This network started by running the audio part of the first five minutes of each half hour of CNN Headline News TV feed.
---
The Colonial Network
Started:
Original Stations:
WAAB (1410) Boston
Basically the New England leg of the Mutual Network, the Colonial Network was essentially the same arrangement as the Yankee Network, except for its origination at a different Shepard station (WAAB) and different stations in some of the markets served.
Non-Yankee stations in 1936:
WBRY, Waterbury
WLNH, Laconia
WLNC, New London
WDRO, Augusta
WSPR, Springfield
WTHT, Hartford.
---
The Concert Network
Started: 195x
Originating station: WBCN (104.1) Boston
Other stations:
WNCN (104.3) New York
WRCN (103.9) Riverhead, Long Island (NY)
WHCN (105.9) Hartford, CT
WXCN (101.5) Providence, RI
WMTW-FM (94.9) Mount Washington, NH was an occasional affiliate.

This network, run by T. Mitchell (Mitch) Hastings, was basically an "off-the-air" relay network, and did not rely totally on telephone links.

---
The Continental FM Network
This was Armstrong's creation to get some content for his Alpine, NJ, station.
Dillard's WASH fed a 15 kHz phone line to Alpine.
Some of the content was WASH's evening classical record program.
---
The Don Lee Network
Started: 1929, as a west coast leg of CBS.

Original stations:
KFRC San Francisco
KHJ Los Angeles
KFBK Sacramento
KBEE Modesto
KOH Reno
KMJ Fresno
KERN Bakersfield

Later, also including KDON Salinas

Don Lee was a Cadillac dealer on the west coast. His network included a number of McClatchy stations. Lee died September, 1934 at age 53.

The Don Lee Net was purchased by General Tire January 1951.
In 1959 the Don Lee Network was purchased by ABC. The Network ceased operation and programming became part of ABC Radio.
Operations Ended: April 26, 1959
---
The Educational Radio Network
Started: October 1962

Original stations: 8
WGBH Boston
WRVR New York
WHYY Philadelphia
WAMU Washington
WAMC Albany
WFCR Amherst, MA
(two more)

The Educational Radio Network was a short-term demonstration project funded by the Ford Foundation.

---
EFM - (Rush Limbaugh)

Started: 1988

This network distributes the Rush Limbaugh and Dean Edell programs.
By 1994, over 600 stations were affiliated with this "network".


---
The Empire State FM Network
A NY based FM network run by Al Wertheimer, Sr.
Started:
Closed: 1975
Original Stations:
WBUF-FM, Buffalo
WVOR-FM, Rochester
WDDS-FM, Syracuse

Added later: WFLY, Troy
This Buffalo-based network was set up largely to run three stations set up to transmit two Muzak channels to stores. The main channel programming (all in FM MONO) was just an inconvenient necessity, a network was the cheapest way to do it. The signal was daisychained over WBUF to WVOR to WDDS. Occasional programs were sent from Rochester to the other stations..
The network ended it's "operations" in 1975 when WBUF switched from beautiful music to album rock and actually went stereo.
---
IMN -The InterMountain Network
Started:

Original Stations:
KIMN Denver

(This was a Mountain Time Zone version of the Mutual Network until sometime in the late 1950s, when the IMN affiliated with ABC.)
---
INRS - The International Negro Radio Service
Started: 1963?
Original stations:
Dallas?
KDAY - Santa Monica, CA
KWAC - Bakersfield, CA
The INRS programmed short newscasts at the bottoms of some hours.
A longer form program "Deadline Exclusive," was also offered.
Network folded: 1964?
---
International Transmissions Inc.
Founded in NYC in 1959 to feed international, Washington and United Nations news to subscribers via telephone links.
In late 1959, merged with Radio Press to form Radio Press International.
Subscribers included WMCA, NYC.
---
The Ivy Network - I
Started: 1943 (according to WHRB). The Ivy Network was comprised of college stations in the so-called "Ivy League". Its home office was at Yale.
Original stations:
WBRU-- Brown University, Providence
WVBR AM &FM-- Cornell, Ithaca
WKCR-- Columbia, New York City
WHRB-FM-- Harvard University, Cambridge
WXPN-- U.Penn, Philadelphia
WPRB AM & FM-- Princeton University, N.J.
WYBC AM &FM-- Yale, New Haven
WDCR-- Dartmouth, Hanover NH
The network has been defunct for some time.
---
The Ivy Network - II
An offshoot of the Rural Radio Network, run by E.Erdman
Started: 196x
Original stations:
WBIV Wethersfield
WMIV S. Bristol
WEIV Ithaca
WOIV DeRuyter
WJIV Cherry Valley
Purchased by Christian Broadcasting Network (CBN)
Network folded: early 80s.
---
KBS - The Keystone Broadcasting System
Started: May 1942
Original stations: 50

---
Liberty Broadcasting System
Started: 1947
Original Stations: 42

Liberty was operated by "The Old Scotchman" Gordon McLendon, out of KLIF Dallas. It was best known for baseball broadcasts, about half of which were in-studio re-creations. Before the baseball clubs went to court to assert ownership of broadcast rights, McLendon hired people to attend the games and phone in details, which were used in the re-creations.
Part of the time, McLendon's partner on-air was Dizzy Dean. Others included Lindsay Nelson, Don Wells and Jerry Doggett, who went on to become long time baseball broadcasters.

Liberty went nationwide in October 1950, with 240 affiliates getting 10 hours of programs a day. At its peak, it had 458 affiliated stations.

Liberty folded in 1952, following a $200,000 out of court settlement with Baseball. .

---
Major Talk Network
Purchased in April 1996 by United Stations Radio Networks.
---
Metromedia Radio News
---
The Mutual Broadcasting System
---
The National Black Network
Started: 1972
Newscasts at :00
Sometime in the 1980s, the NBN merged with the Sherdian Network.
---
NBC - The National Broadcasting Company
---
National Negro Network
Started: January 20, 1954
Original stations: 40
Started by W. Leonard Evans, the NNN was possibly anchored at WDIA, Memphis.
Its most notable program was "The Story of Ruby Valentine", a continuation of the CBS soap "We Love and Learn". The program starred Juanita Hall (fresh from her success as Bloody Mary in "South Pacific") and was apparently sponsored by Wrigley's Gum. The network flourished in the mid 50s and may have had a number of major national sponsors.
---
National Public Radio (NPR)
Started: 1971
Original stations: 84 stations (need to confirm this number)

NPR was established as a program source for noncommercial educational stations as a result of the Public Broadcasting Act of 1967. It is a membership organization made up of its affiliated stations.


---
NIS - News and Information Service
---
News Associates
Started 195x.
Founded by I. Herbert Gordon. This was a group of former INS Washington.deskers, who were out of work after the UP-INS merger. Staffers included Bruce Morton. They supplied Washington coverage to regional clients by phone feed. From the end of 1958 until early 1960 they also served as the Washington Bureau of Radio Press and Radio Press International.
The "Radio World Wide" stations WGN, WHAS, WHAM, WJR were the principal clients when Herb went out alone after they dropped RPI. The idea was to provide a complete "world wide news service."
UPI later bought News Associates when the Radio World Wide concept fell apart
---
Premier Radio Networks
Started:

In 199x, the network acquired Rush Limbaugh (The "EIB" is a figment of his mind), and Dr. Dean Edell.
In 199x, the network added Dr. Laura Schelsinger.
In 2000, Premier was acquired by Clear Channel Communications.
---
PRI - Public Radio International
---
The Progressive Radio Network
Started: November 26, 1950

Network folded February 1951

---
The Quality Group (or Network)
Started: 1929
Original stations:
WOR, New York
WLS, Chicago
WLW, Cincinnati
WXYZ, Detroit (optional outlet)

Network folded: October 15, 1934
In October 15, 1934 a new agreement led by stations WOR and WGN was labelled as The Mutual Broadcasting System.
---
The QXR Network
Started: 196x

The QXR network was given that name because all it did was retransmit the music and news of WQXR in New York.

The QXR Network was an offshoot of the Rural Radio Network, along with the Ivy Network (I).
---
The RCA Network
Started: December 1923.
Original stations: WJZ, NYC and WGY, Schenectedy.

RCA used Western Union telegraph wires, as AT&T would not lease phone lines to a "competitor". By 1925, RCA could only link up four stations (including WJY and WRC), as the WU telegraph lines provided inferior audio quality with sporadic, unreliable connections.

This led to court cases, which then caused AT&T to bow out of programming and broadcasting, and become a "common carrier".

The RCA net was then folded into the National Broadcasting Company as NBC-Blue.
---
The RKO Network
An outgrowth of the Radio-Keith-Orpheum theatre chain formed in 1928.

Originally mainly a sales alliance. Over time, in looking at RKO, we begin to notice how many of the networks tended to overlap: WOR has appeared in the lists of several.

After RKO was purchased by General Tire in 1955, it was merged into General Teleradio in 1958 as the RKO Radio Network. As that network unravelled, it was purchased by Transtar, eventually little was left from the legacy other than the RKO name.

A "new" RKO network appeared in 1979.
RKO was purchased by United Stations (Dick Clark and Nick Verbitsky) in 1985.
United Stations merged with Transtar in 198x to become Unistar.
Part of the company was then purchased and absorbed into Westwood One in 199x.

---
RPI - Radio Press
Started: November 1958
Founded in NYC by George Hamilton Combs, Stewart Barthlemess and Donald Hirst. Combs was an ABC commentator in the 1950s. In an arrangement with Herb Gordon's News Associates in Washington, DC, and International Transmissions, delivered a range of national and international news.
In September 1959 Radio Press merged with International Transmissions Inc. to form Radio Press International.
---
RPI - Radio Press International (1)
Started: September 1959
Founded when Radio Press merged with International Transmissions Inc. to form Radio Press International.
Shortly afterward (December 1, 1959) it was purchased by R. Peter Strauss of WMCA, NYC. In early 1960 RPI founded its own Washington bureau in the Dodge House with Irv Chapman (now with Bloomberg) as bureau chief.
January 1, 1966, RPI was bought out by UPI. Its clients and engineering staff were merged into UPI Audio.
---
RPI - Radio Press International (2)
Started: 1999
Folded in 2000.
---
Rural Radio Network
Started: Summer 1948
The Network listed its home office in Ithaca, NY and its president as R. Bruce Gervan.
Terminated: The RRN ended sometime in 1961-62, with part becoming the QXR Network, and part becoming the Ivy Network (I).
The network was started by the Cooperative Grange League Federation Exchange, Inc., apparently a farm-store operation associated with the local Granges. The stations were indeed early FMs, and they were mostly in New York.
In the late 1950s or early 1960s, RRN was purchased by Woody" Erdman, who owned rock & roll AM daytimer WTKO in Ithaca, NY.

WVFC-- Ithaca, NY
WFNF-- Wethersfield, NY
WVBT-- Bristol Center, NY
WVCN-- DeRuyter, NY
WVCV-- Cherry Valley, NY
WVBN-- Turin, NY
WSLB-FM-- Ogdensburg, NY
WGHF-- Hartford, CT
WACE-FM-- Springfield, MA

The Rural Radio Network also entered into an association with Captain W. G. H. Finch for the utilization of transmission and studio facilities of radio station WGHF at 40th Street and Fifth Avenue, New York City.
Many of the stations had "RR" in the calls, making it easy to identify RRN stations, for example WRRD in DeRyter.
Bill Schmidt writes: The original stations ran on GE 250 watt transmitters, and with the double bay RCA slotted antennas, their ERP was listed as 1.3 kw. Some time before Ellis "Woody" Erdman bought the stations, the transmitters had been equipped with GE 1 kw amplifiers, giving about 5 kw ERP, not a lot, but adequate as long as rooftop receiving antennas were used.
Schmidt notes about the Erdman days: "At that time the RRN consisted of 5 FM stations across upstate NY (from west to east): Weathersfield (outside of Buffalo), Bristol Center (south of Rochester), Ithaca, DeRuyter (southeast of Syracuse), and Cherry Valley (southwest of Albany). A 6th station at Turin in the Adirondacks had been decommissioned before Woody bouight the net, supposedly because of the expense of keeping its diesel generators going. It was the only station that wasn't on the power grid, although they all had emergency generators that started automatically during power failures. At least they were supposed to.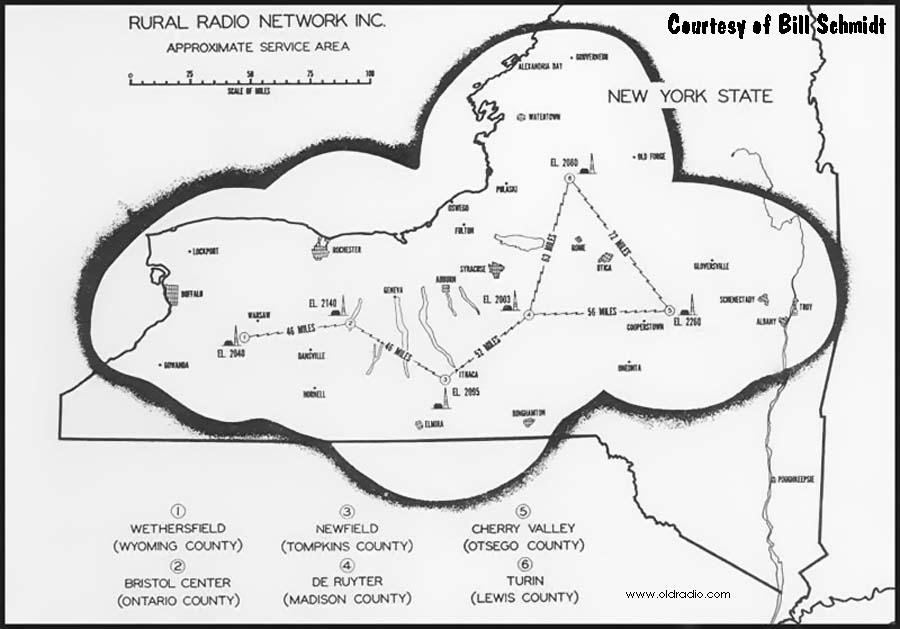 The stations were all unmanned and remote controlled from the one in the middle at Connecticut Hill outside of Ithaca. Programming was provided by classical station WQXR in NYC, relayed to the eastern Cherry Valley RRN station by WFLY in Troy, NY, which got the feed off the air from WQXR using a substantial antenna farm.
As far as I know, there was little or no revenue from the WQXR feed. The reason Woody ran the network was to distribute the feeds from Syracuse University football games, to which he had the broadcast rights. Apparently this was enough of a revenue source to pay the staff of about 5 engineers who worked at the Ithaca station (WRRA then) and keep the 1-kw GE FM transmitters and home-made subcarrier (19 - 29 kc.) remote control equipment going.
The stations had been equipped with SCA exciters, which had been used to broadcast commercials to captive listeners in city busses, but this system was not in use in 1960.
The one program that the net originated was a daily morning "Weather Roundup", which consisted of using receivers at the various RRN transmitters to pick up, in sequence, weather broadcasts from broadcast stations across the RRN's coverage area. Considering the vacuum-tube and stepper- relay feed switching system at each RRN transmitter, its a wonder this worked as well as it did. I don't know if this generated any revenue."
---
Satellite Music Network
---
The Sheridan Network
Begun as a part of the Mutual Network in 1972.
Merged into the National Black Network sometime in the 1980s.
---
The Texas State Network
---
The Texaco-Metropolitan Opera Network
Started: 1931
Originated as an NBC program.
Originated as a network: 1960
Originating station: WOR-AM-FM
The Metropolitan Opera was first broadcast on the NBC-Red network in 1931 and bounced between the Red and the Blue, with various commercial sponsors, for the next ten years.
In 1941 the Texas Company assumed permanent sponsorship of the broadcasts (the longest continuous sponsorship in American broadcast history). By 1943 the Met was on the Blue Network and when the Blue assumed the ABC name, in 1945, the Met remained with ABC until 1958 when the broadcasts moved to CBS.
In 1960 Texaco (as the Texas Company was by then called) formed its own special-order network for the broadcasts. While CBS had been quite willing to continue the Met broadcasts, Texaco took this step because some CBS affiliates had begun tape-delaying the broadcasts, a practice which was unsatisfactory from both the Met's and Texaco's standpoint. Texaco hired G.H. Johnston, a radio sports networker, to create an independent network with 95% coverage of the US population utilizing a combination of commercial and noncommercial stations who would commit to live carriage. Beginning with the establishment of the Texaco Metropolitan Opera Radio Network in 1960, WOR-AM-FM served as the network's flagship station.
The Met's broadcast relationship with the CBC dates from December 14, 1940 (one week after the Met's first Texaco broadcast) and has been continuous ever since.
In 1973 Texaco ordered stereo landlines from AT&T for to convert the broadcasts to full-frequency stereo in eleven East Coast cities. Effective with the 1980-81 season the Texaco Metropolitan Opera Radio Network began using partial satellite delivery, using the Public Radio Satellite System, for NPR members stations carrying the Met broadcasts. By the 1983-84 season the full network was converted to satellite delivery (using the public radio system for public stations and the Mutual Broadcasting System satellite delivery for commercial station affiliates).
Johnston ran the Texaco Metropolitan Opera Radio Network for Texaco until his retirement at the end of the 1979-80 season. Effective with the 1980-81 season Texaco contracted directly with the Met whose broadcast department took over responsibility from Johnston for all networking and transmission issues associated with the network's operation.
Beginning with the 1990-91 season the network expanded to Europe through association with the European Broadcasting Union and the network's name was changed to the Texaco Metropolitan Opera International Radio Network. Australia/New Zealand joined the network in the late 1990's with Brazil and Mexico being added for the 1999/2000 season. Uruguay, Ecuador and Japan joined the network for the 2000-2001 season. Spanish commentary and intermission features are inserted for the Spanish-speaking countries in the network.
---
Transtar
Operations begin: 1975 (as RKO)
Closed: March 1994.
RKO became the United Stations Radio Network in 198x.
United Stations merged with Transtar in 1989 to become Unistar.
Unistar was purchased by Westwood One in 199x.

---
United Broadcasting Company
Operations begin: November 5, 1930
The United Broadcasting Company (L.L. Davis, Chairman) began its West Coast network from Los Angeles. The inaugural program started at 7:00 PM.
The UBC Chain stations:
KFWB Hollywood
KTM Los Angeles
KTAB San Francisco (now KFSO)
KXA Seattle
KXL Portland
KGB San Diego
KORE Eugene
KMED Medford
KVOS Bellingham
On February 26, 1931 UBC announced that it had merged with NBS - The Northwest Broadcasting System, owners of KJR Seattle, KEX Portland & KGA Spokane. Both chains would run independently.
On April 1, 1931 UBC suspended operations.
With assistance from Craig Adams.
---
United Stations Radio Networks - 1
Operations begin: 1975 (as RKO)
Closed: March 1994.
See Unistar 1989.
---
United Stations Radio Networks - 2
Operations begin: 1994
Dick Clark and Nick Verbitsky reacquired the USRN name and launched a new network in 1994, using programs from DB Communications as the foundation..
---
UPI Audio - United Press International
UPI Radio Network
Started: 1958

Original stations:

On January 1, 1966 UPI bought out RPI.
For about 3 months UPI Audio operated out of the RPI studios at 604 5th avenue in NX. In March Stevens joined Audio as Chief Engineer and shortly thereafter Audio moved into their "New" facility in the Daily News Building.chiefly using equipment bought 18 months before in an aborted expansion of RPI.
UPI Audio mutated into UPI Radio Network
UPI Radio was closed down in 1999.
---
Unistar
Operations begin: 1975 (as RKO)
Closed: March 1994.
United Stations merged with Transtar in 1989 to become Unistar.
Unistar was purchased by Infinity Broadcasting in 199x.
Absorbed into Westwood One in 199x..

---
Westinghouse Radio
Operated from the mid 1960s to the mid 1970s.
This was essentially a captive network for the Westinghouse (Group W) news operations. Operated as a "hub and spoke" network, it allowed the stations to share local news and a Washington bureau.
---
Westwood One
This network absorbed several others, including:
Transtar, Unistar, NBC, Mutual.
Westwood One has been managed by Infinity Broadcasting since 1993.

---
WBS - World Broadcasting System
Started: September 1929
Original stations: 25

This was a "wax" network.
It reached as many as 300 stations in 1930.
---
The Yankee Network
Started: approx 1929-1933 by John Shepard III
Original stations:
WNAC Boston (O&O)
WAAB Boston
WICC Bridgeport (O&O)
WEAN Providence (O&O)

Yankee was one of the first networks to operate an FM station, with a mountaintop relay station in the mid-30s. It was one of the first networks to focus on news gathering and daily newscasts for its affiliates in the northeast. It also functioned as a part of the Mutual Network.

The slogan of the Yankee network was "News While It Is News".

Additional stations included WATR, Waterbury; WCSH, Portland; WDRC, Hartford; WFEA, Manchester; WLBZ, Bangor; WLLH, Lowell; WMAS, Springfield; WNHB, New Bedford; WPRO, Providence; WORC, Worcester and WSAR, Fall River.

Yankee was purchased by General Tire & Rubber 1/18/43.
Shepard died June 1950.

Yankee closed February 6, 1967