This is the Salt Lake City section of
The Broadcast Archive
Maintained by:
Barry Mishkind - The Eclectic Engineer
Last Update 3/14/06

---
A history of Salt Lake City AM Radio - Paul Wilson, May 2004.
Having spent more than half of my broadcasting career working in Salt Lake City, this is my perspective of the market's radio history. By no means is this a "complete" history, but this is my personal memories with additional information gathered from other people and sources.
Most people put their favorite station on the first preset of their car radio, their next favorite on the second and so forth. Radio people, however often sequence their presets to flow from left to right on the dial...from the lowest to highest frequency. This history begins in the same way, moving from left to right along today's radio dial beginning with 570 KNRS.
---
570 KNRS: Clear Channel acquired the 570 frequency at the end of 1997, when Jacor traded the 106.5 FM frequency to Trumper for 570. Today 570 KNRS is Clear Channel's flagship news/talk station carrying Rush, Dr. Laura, Coast-to-Coast and Paul Harvey among other programs. Utah broadcasting pioneer Frank Carman put the station on the air in 1938 as KUTA (those call letters later went to a station in Blanding) but when I moved to Salt Lake in 1975 to attend the University of Utah it was well established as KLUB with a beautiful music format. In the early 80s beautiful music gave way to "Music of Your Life" (one of the early syndicated adult-standards formats) but when the Carman family sold the station (and sister KISN-FM) the new San Diego-based owners began simulcasting the FM programming, splitting KISN-AM for broadcasts of the NBA's Utah Jazz. The stations were later sold to Chicago-based Trumper Broadcasting, and the Jazz were the foundation around which a sports format was built on "Sports Radio 570". Even after the Jazz moved to Citadel's KFNZ the sports format remained for a year or so until the Jacor-Trumper swap allowed the new owners to create KNRS at 570 AM and KOSY at 106.5 FM in 1998. KNRS operates at 5kw with a directional pattern at night; the transmitter site is on 2200 North just west of I-15 near the Davis county line and on the shore of the Great Salt Lake. In the late 80s, when the lake level rose by several feet and threatened to flood the studios, the tower bases would have been underwater had they not been sandbagged. Not surprisingly KISN (and KSL, whose transmitter was also in the path of the advancing lake waters) received an unusually high number of DX reports that year since the Great Salt Lake functioned as each AM stations' ground system.
---
630 KTKK: ("K-Talk"), a unique and mostly local talk station that I remember as KSXX, with studios on State Street just above 4th South. Both the station and the Ron Baile School of Broadcast were operated by Starley Bush and Paul Droubay; the two later split, with Droubay beginning KDAB-FM in Ogden (now Citadel's KBER) and Bush retaining the broadcasting school and daytime AM station. Shortly after gaining nighttime authority in the early 80s when the city of license was changed to Sandy, the KSXX talk format was replaced by top 40 music and the call letters changed to KZJO ("63 Joe"). After about six months the music was replaced by network talk from ABC (Michael Jackson and others). I'm not sure at what point the call letters were changed to KTKK; Starley eventually sold the station and it has progressed through several owners over the years.
---
700 KALL: In early 2003, Clear Channel moved the call letters and format of KALL 910 down the dial to 700, finally giving KALL the same 50,000 watts of power as KSL (although KALL operates with 1000 watts and a directional pattern at night). George Hatch started KALL 910 after World War II and owned the station for nearly 50 years; morning host Tom Barberi has been with the station since the early 1970s. The station was always a worthy if underpowered competitor to KSL; I remember KALL 910 as the flagship of the Intermountain Network, originating local and regional news and sports programming that was fed to stations throughout the rocky mountain region on phone lines until satellite technology made this system obsolete. In addition to IMN, KALL was the home of ABC news, Paul Harvey, University of Utah sports and was a true full-service AM station where personalities like Barberi, Chris Corey and Danny Kramer cracked jokes between the records. Hatch sold the KALL stations (AM 910 and 94.1 FM) in the 90s to the owners of KKAT (I believe it was Regent) which consolidated all of the operations in KALL's building at 312 East South Temple. The KALL/KODJ/KKAT stations were eventually purchased by Jacor, which later merged with Clear Channel; when Clear Channel bought KTVX-4 they sold KALL to Mercury Broadcasting (a San Antonio based holding company, although Clear Channel sold KALL's advertising under a joint sales agreement). When Disney/ABC purchased the 910 frequency for its own Radio Disney format, Clear Channel moved KALL's programming to 700 AM replacing the classic country format and KWLW call letters the station had carried since Jacor's acquisition in 1997. Although licensed for 50,000 watts daytime, KFAM (the original calls of 700) drastically reduced power at night to protect one of the original high-power "clear channel" AM stations, legendary WLW/Cincinnati (the "nation's station"). David Williams, owner of General Telephone (a paging company) was the original licensee but the station's beautiful music format was never a ratings factor.
---
Ogden's 730 KSVN was a daytime station with at various times pop and/or country formats during the 70s. By the 80s it had adopted the Spanish language format that it still operates with today. Licensed to Roy, KSOS was an oldies station owned and operated by Brent Larson for much of the 80s. Today it is owned by Simmons and simulcasts the programming of 1280 "The Zone", as does Provo's 960 KOVO. Along with its purchase of most of Simmons' FM stations, Bonneville acquired the construction permit for the new 820 frequency. The pending call letters are KUTR, which are former calls of 860 AM...which achieved its highest ratings with an all-LDS music format during the 80s. My first job in Salt Lake City radio was at KWHO-AM 860 and FM 93.3; I was the last person hired by John Dehnel before he joined KSL radio as their chief engineer in 1975. At that time KWHO-AM was a daytime only station that played classical music, and the FM was an automated pop music station. Both were owned by an attorney and operated from an old house on East 2nd South. (Believe it or not, the station did NOT have cart machines until after I left in 1976...the classical music was all on vinyl; the rock was on reel-to-reel tape and commercials played from reel tapes also.) At various times the 860 signal was home to CNN headline news (as KCNR) and simulcasts of the 93.3 FM (classic rock KLZX and country KUBL) and 98.7 FM (A/C KBEE-FM) programming but became a "Radio Disney" affiliate in 1999. With the loss of Radio Disney in 2003 and the simultaneous demise of KWLW, Citadel affiliated with Jones Radio Network's "classic country" format and the station (KBEE-AM) is now known as "Coyote Country 860".
---
960 KOVO: Arch Madsen (who would later rise to the top of Bonneville International) was the first general manager of Provo's KOVO (then at 1240) in 1939. Through the mid-70s KOVO AM and sister KFMC-FM were programmed for Utah county listeners and sold primarily to Utah county advertisers. I was hired shortly after the station was purchased by First Media Corporation (which was controlled by the William Marriott family and also owned Z-93 in Atlanta and WPGC in Washington DC) to do overnights and later 7-Midnight. The call letters had been changed to KAYK AM/FM and was known as "K-96" since the frequency was common to both signals (960 AM and 96.1 FM). The format was "pop adult", a forerunner of today's mainstream adult contemporary. I left in early 1978 and the stations passed through a couple of owners and several formats. The FM later changed frequencies (to 96.3) and transmitter sites and today is Simmons alternative X-96. The AM became full-service KDOT for a time, was Spanish for a time and off the air for a while. Today it simulcasts Simmons "Zone" format with 1280 in Salt Lake and 800 in Weber County.
---
1010 KIQN: The non-profit Park City Wireless owns 1010 KIQN, which I originally remember as KTLE at 990 in the 70s and 80s, hidden behind the Oquirrh mountains in Tooele county (west of the city and south of the Great Salt Lake). The city of license has since been changed to Magna (on the Salt Lake side of the Oquirrhs) and "KIQ" operates at 50kw day and 225 watts (directional) at night, carrying CNN headline news.
---
1060 KDYL: Although the station currently on 1060 carries the call letters KDYL, this is not the first home of those historic call letters. Brothers Art and Ralph Carlson (who also operated A&R Meats) signed on KRSP-AM in 1966 and KRSP-FM (at 103.5) in 1967 as vehicles to advertise their meat company. I worked there during the 70s (when Christmas bonuses for the air staff included A&R Meat products) as KRSP battled with top 40 competitors KCPX and KNAK. KRSP-AM boasted 10,000 watts of daytime power and the signal carried well beyond the borders of Utah...unfortunately it did not have nighttime authority, so as the AM signed off at sunset its FM simulcast partner continued to broadcast. In 1979 the station was re-licensed to South Salt Lake and four additional towers were erected behind the studios in Murray giving KRSP-AM a small (150 watt) but listen-able night-time signal over much of the Salt Lake valley. By then, however, the massive audience shift to FM had begun and the AM struggled as a top 40 (briefly known as "10K") and later as an oldies station before becoming one of the first stations in the country to target pre-teenage listeners. The call letters were changed to KKDS and "The Imagination Station" (later "Radio AAHS") continued through much of the 90s before evolving once again into what it is today...a locally programmed adult standards station featuring popular music from WWII through the 70s.
There are a couple of very unique twists to the story of 1060. During its halcyon years of the early 70s as a top 40 station, the morning talent on KRSP FM/AM was Mark VanWagoner. After working at KSL and other stations in the area, Mark is back on 1060 doing mornings with his wife of many years, Gayle. Also the call letters KDYL have now been associated with every Salt Lake City frequency that played top 40 music during the 1970s. They were originally assigned to 1320 but were changed to KCPX when the AM station (along with its FM and TV partners) were purchased by Columbia Pictures. The historic KDYL call letters lay dormant until 1982, when they were resurrected and replaced KNAK on 1280 (KNAK, KRSP and KCPX were all top 40 competitors during the 60s and 70s) where they lived for about 20 years. Simmons changed the KDYL call sign to KZNS (in honor of another historic Salt Lake call sign, KZN) in November 2001, and after 26 months of rest they were placed on their current home, 1060. One final note: regardless of the format or call sign, the colors red, white and blue have been part of almost every logo since inception (view them at http://www.kkds.com/aboutus.htm). At one time Carlson Communications also owned stations in Idaho, Nevada and Arizona, but today Ralph Carlson's Holiday Broadcasting (the only licensee KRSP/KKDS/KDYL has ever had) remains as one of the last local family-owned radio stations in the Salt Lake market.
---
1120 KANN: There has been religious programming on 1120 in Ogden as far back as I can remember. Today KANN is the only AM station carrying the religious "Sounds of the Spirit" network originating from Las Vegas.
---
1160 KSL: The grandfather of all Utah radio stations is KSL. With 50,000 watts at 1160, its signal still covers much of the nation and is one of the few heritage three-letter call signs that have survived the consolidation and deregulation eras. Obviously they stand for "Salt Lake", but the original 1922 call sign was KZN. With backing from the major newspapers (whose publishers initially saw radio as a way to promote subscriptions but later came to recognize broadcasting as a viable financial enterprise) KZN (with support from the Deseret News) along with the original KDYL and the station that would later become KLO were among the stations that survived into the 1930s.
The letters KSL were granted in 1922 (about a month before KZN officially signed on) to a station in San Francisco; in 1924 KZN was changed briefly to KFPT...but in 1925 the station became KSL at roughly the same time that Earl Glade joined the station. Glade managed KSL until the late 1930s. At some point the station changed dial position from 1130 to 1160. KSL has been the broadcast home of the Mormon Tabernacle Choir (recently honored by the National Association of Broadcasters for "Music and the Spoken Word", which has aired on the station since 1929). Much is written elsewhere about the glorious history of the station and its FM and TV counterparts, so I'll share a couple of stories you might not hear anywhere else.
Always presenting a larger-than-life image, KSL's studios were named "Broadcast House" (a name originally tied to KSL's "Home of Radio" imaging campaign, capitalizing on KSL's long and legendary heritage). For many years, all three of the major network television affiliates (KUTV-2, KCPX-4, KSL-5 as well as KCPX and KSL radio) were located on the same short street...one-block long Social Hall Avenue that runs east from State Street. As each station outgrew its space and needed to upgrade their facilities during the 70s, all of the broadcast operations left downtown. KCPX was first followed by KUTV (both of them moved to industrial parks near West 21st South). KSL was the last to move, and chose to remain near the heart of the city...relocating to the Triad Center less than a mile to the west. As the old Social Hall studios were being dismantled, I heard the story from more than one person that as engineers began pulling cable out of a wall it just kept coming and coming, with no end in sight. Finally they decided to find where this wire terminated. It was traced it into the ceiling, up a couple of floors and on a long maze throughout the building only to discover that…it terminated in the room next door to where they had begun pulling it. After decades in the same building, I guess anything is possible…and whether this story is true or not, it's an interesting radio "urban legend".
---
1230 KJQS: (branded on air as "KJQ the Sports Animal") has a long a colorful history. It's what was once a 1kw "class IV AM", and I knew that the station in the 60s had a top 40 format and the call letters KMUR (which made sense, as it was licensed to Murray). When higher power competitors came along (KCPX and KNAK both had 5kw and KRSP had 10kw) the station changed format and call letters (to KMOR as country). I remember seeing the "KMOR" sign next to Zion Motors, the Chrysler dealership on State Street in Murray (both were owned by the Wilkinson family) but I arrived at the end of the country era.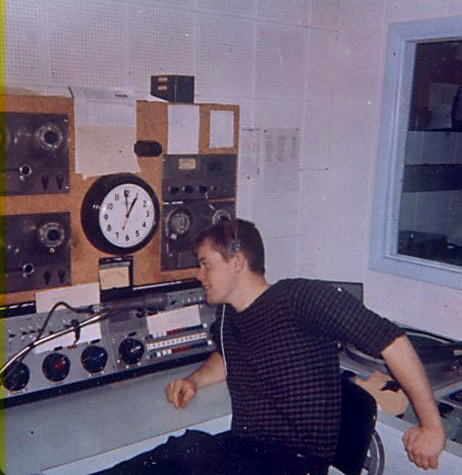 Neil Ross @ KMUR 1963
In late 1975 my second job in the market was doing overnights at KMOR; two weeks after I started the format was changed to adult contemporary and this 18-year old kid was making $500 a month doing mornings. Four months into the journey, however, the owner declared bankruptcy and the staff all left being owed several weeks pay. The studios and transmitter were located in a field west of I-15 near 4900 South but were torn down a few years later to make way for an indoor amusement park. The studios moved to a State Street storefront a few blocks from where they had been a decade before and went through a number of changes including all comedy radio (as KLAF), top 40 again (as KPRQ, or "K-Park 12") and a variety of talk formats (finally as KWUN, or "K-One") before finally going dark in the late 90s. Citadel purchased the bankrupt frequency, combined the transmitter site with 1320 (near the original site in Murray) and launched a second sports station using ESPN Radio and overflow play-by-play from 1320 KFAN (which carried the NBA Jazz, AAA baseball and minor league hockey). They also tried to capitalize on the "KJQ" call letters by applying for the call sign KJQS and imaging the station as "KJQ the Sports Animal" (more on the history of KJQ ahead).
---
1280 KZNS: Since Citadel programs sports on both 1230 and 1320 frequencies, what do you suppose Simmons does with 1280? That's right...sports. 1280 "The Zone" pays homage to KSL's original call letters...but I doubt that anyone who listened to the original KZN in 1922 makes the connection with today's KZNS. The history of 1280 begins after WWII when Howard Johnson (no relation to the hotel) signed on KNAK. (Those call letters now reside on a station downstate in Delta, and the Johnson family continues to influence Utah radio today; Howard's son Jerry manages stations in St. George.) By the mid 60s, "1280 K-NAK" had become the dominant rock station in town. Morning jock Lynn Lehman and night jock "Skinny" Johnny Mitchell gave the station a very distinctive sound...and Program Director Gary "Wooly" Waldron had his finger squarely on the pulse of the Salt Lake audience. After years of trying unsuccessfully to beat them, KCPX hired the three keys to KNAK's success away. With a better signal (5kw full time at 1320, as opposed to KNAK's 5kw day and directional night pattern), incredible stability of the air staff and the full backing of Columbia Pictures' bankroll, KCPX was by far the most listened to station in the city through the entire decade of the 70s. After losing key staffers, KNAK continued to play but never won again and was finally sold to a man named Williams in 1976. Mr. Williams changed the call letters to KWMS, took off the rock and roll and put on an all-news format that remained for a several years. In the mid 80s, Simmons purchased KWMS, changed call letters to KDYL and the format to adult standards (remember the original KDYL began broadcasting in 1922 alongside KZN). Under Simmons ownership, the facility has been upgraded to a directional 10kw day and 600 watts at night and the station's current programming is simulcast on AM stations to the south and north of the metro.
---
1320 KFNZ: I've already written a lot about 1320, but suffice to say that KCPX was THE dominant top 40 station through the entire decade of the 70s. The rock solid lineup of morning man Lynn Lehman, night jock "Skinny" Johnny Mitchell, afternoon jock and PD "Wooly" Waldron and news anchor Joe Lee endured for most of the decade and greatly contributed to KCPX's consistency. It wasn't until FM listening levels finally surpassed AM in the early 80s that KCPX-AM declined noticeably. The call letters were changed to KBUG for a time as the station "evolved" into more of an adult-contemporary station before reclaiming the KCPX calls and an oldies format for a time in the late 80s. After a short period as a news/talk station under the calls KCNR, Citadel instituted an all-sports format and the station became "1320 K-FAN" (KFNZ).
---
1370 KSOP: KSL (which has always been controlled in one fashion or another by the LDS church) and 1370 KSOP (and sister station KSOP-FM) are perhaps the last stations still being operated by the original license holder. Henry Hilton signed on the AM as a daytimer in the late 50s, the FM followed in about 1960; both stations have always played country music and are still owned and operated by the Hilton family. Although the KSOP stations (the call letters represent the three major cities of the Wastach front, Salt Lake, Ogden and Provo) the AM today runs an automated classic country format featuring country gold from the 50s through the 80s.
---
1400 KSRR: I remember 1400 in Provo as being another country station in the mid-70s using the call letters KFTN. Today KSRR (K-Star) serves Utah County with an adult contemporary format.
---
1430 KLO: originally signed on in the mid-20s as KFUR. Licensed to Ogden, it struggled until the early 30's when Abe Glassman, owner of the Standard-Examiner newspaper assumed control and changed the call letters to KLO (in honor of Mt. Ben Lomond, which towers over Ogden). KLO was the flagship of the Interstate Broadcasting Corporation (later the Intermountain Network), and Abe's son-in-law George Hatch became station manager in 1941. At one time the Glassman/Hatch empire included the Ogden newspaper, KALL AM/FM and KUTV in Salt Lake City but today the family has divested itself of all media properties. One Glassman daughter married George Hatch and another married Cecil Heftel who briefly owned KLO before building his own chain of stations (including Miami's Y100 among others). Today KLO has a news/talk format and is owned by John Webb along with KBZN-FM (the Breeze).
---
1450 KEYY: As dominant as KCPX was in Salt Lake, 1450 KEYY was an equally dominant top 40 station for Utah County in the 70s. Provo-Orem was not added to Arbitron Salt Lake-Ogden metro area until the mid 80s, and most of the Utah county signals did not penetrate well to the north so KEYY was a well-kept secret to everyone except Utah county listeners and BYU students. By about 1980, when FM listenership passed AM levels, the then-owners of KEYY saw FM as the future and obtained a construction permit for a new Provo FM station at 94.9 (KRMQ). Eventually both signals were sold to separate parties and although the KEYY call letters remain the 1450 frequency is home to religious programming.
---
1480 KHQN: One of the more interesting formats in the 70s and 80s was found on another Utah county AM during the 70s and 80s. I remember 1480 KHQN as being the mouthpiece for a group of Hare Krishnas; if you wanted to hear sitar music, this was your station. Today the station carries Radio Unica Spanish programming.
---
The call signs 1010 KIQ(N), 1230 KJQ(S) and 1480 KHQ(N) are no coincidence; they're all following the lead set by the original Salt Lake three-letter wannabe, 15 KJQ. The history of this frequency begins in 1947 when Arch Webb started KVOG (the "Voice of Ogden"). For a time in the 60's he also operated KVOG-TV on channel 9. After 30 years of ownership, Arch sold 1490 KVOG; he was retiring and his son John had signed on KZAN-FM (now KBZN). The new owner was SGS Broadcasting and the letters noted the names of the principals Sherman, Greenleigh and Sanchez. Tom Greenleigh, who had programmed KRLA/Los Angeles only a few years before, moved to Ogden and became the station's general manager. The call letters were changed to KJQN and the on-air ID was 15 KJQ; the station's contemporary format was targeted squarely at Weber and north Davis counties. Although KJQ was successful for several years, by 1983 AM listenership was on the decline and SGS entered into an agreement with Garrett Haston from El Paso who held the construction permit for a new FM signal at 95.5. (Interestingly the transmitter site for KJQ-FM was on Little Mountain west of Ogden, the same site that KVOG-TV used twenty years earlier. The black and white TV transmitter was still in the building but by this time channel 9 had been re-allocated to the University of Utah as an educational channel.) I joined KJQ in 1983 just as the FM signed on (it operated as a simulcast of the AM for the first year) and I became the station's second program director in 1984. KJQ-FM was a top 40 station until 1988 when it changed format to alternative and achieved its highest ratings; however the AM went through a variety of formats after abandoning contemporary hits in about 1985, from oldies to full-service AC to talk before finally being sold in the early 90s to religious broadcasters and changing call letters to KYFO. Once again the 1490 and 95.5 frequencies are a simulcast.
---
I thought three call letters sounded very cool, and we even has the old KCBQ "shotgun" jingle sung for the station during my time as PD. Of course, at the top of the hour we had to legally ID the station as KJQN…funny how that last letter always got slurred, so it sounded like "KJQ in Ogden". The fact that there were a couple of other three-letter calls in the market (KSL and KLO) were a factor in the decision to use a three-letter ID as well. In looking back I'm proud of the work we did at KJQ; we had less to work with than the major Salt Lake contemporary stations we competed against but had to sound every bit as good. I know I never worked harder than I did there, and the skills I learned during that time have continued to serve me well throughout my career.
---
1550 KRGO: When I worked at 1550 KRGO during the late 70s it was known as "Country Kargo". The station was owned and operated by Gene Guthrie and despite a robust 10,000 daytime signal the station had no nighttime authority until about 1976 and was a perennial runner-up to KSOP. Guthrie focused his efforts on his FM station in the 80s and the AM at various times ran Satellite Music Network's metal based "Z-Rock" format and a locally programmed oldies format with the call letters KRPN, identifying itself as "WKRP in Salt Lake City" (another example of making your final call letter an "N"). Today the call letters are KMRI and it features a religious format.
---
1600 KSGO: Prior to adopting the KSGO call sign, the 1600 frequency was home to the historic KCPX letters for a number of years. When Trumper relaunched KCPX as a classic hits station on 105.7 in 1999, they purchased the call sign from 1600. Licensed to Centerville, 1600 KSGO today is another Spanish station.
---
Over the years, the Salt Lake AM radio dial has changed and become more crowded. However the more things change the more they stay the same, as 1160 KSL, 570 KNRS, 1320 KFNZ and 700 KALL are today's top rated AM stations…virtually the same call letters and/or frequencies that have dominated Salt Lake's AM dial for more than forty years.
---
The 1946 Salt Lake City AM radio dial
570 KUTA
910 KALL
1160 KSL
1240 KOVO (Provo, later moved to 960)
1320 KDYL
1400 KNAK (later moved to 1280)
1430 KLO (Ogden)
The 2004 Salt Lake City AM radio dial
570 KNRS (News/Talk, owned by Clear Channel)
630 KTKK (Talk)
700 KALL (Talk/Sports, owned by Clear Channel)
730 KSVN (Ogden - Spanish)
800 KSOS (Roy - Oldies, owned by Simmons)
820 KUTR (new CP, owned by Bonneville)
860 KBEE-AM (Classic Country, owned by Citadel)
910 KWDZ (Radio Disney, owned by ABC)
960 KOVO (Provo - simulcast 1280, owned by Simmons)
1010 KIQN (Tooele - CNN Headline News)
1060 KDYL (Adult Standards)
1120 KANN (Ogden - Contemporary Christian)
1160 KSL (News/Talk, owned by Bonneville)
1230 KJQS (ESPN Sports, owned by Citadel)
1280 KZNS (News/Sports, owned by Simmons)
1320 KFNZ (Sports, owned by Citadel)
1370 KSOP-AM (Classic Country)
1400 KSRR (Provo)
1430 KLO (Ogden - Talk)
1450 KEYY (Provo - religious)
1480 KHQN (Spanish Fork)
1490 KYFO (Ogden - religious)
1510 KLLB
1550 KMRI
1600 KSGO (Centerville - Spanish)
1640 KBJA (Spanish)
1660 KXOL (Brigham City)
---
A history of Salt Lake City FM Radio – Paul Wilson, March 2005.
The Salt Lake FM dial is one of the most crowded and competitive in the United States. Virtually all of the FM channels allocated to the market are occupied and stations licensed to communities as far as 200 miles away reach the Wasatch Front via translators, boosters or simulcast partners. Over thirty signals fill the commercial FM band from 92.1 to 107.9 mHz. Deregulation during the 1990's brought multiple ownership, facility and format changes that continue to the present day. While it was easy to cover the AM dial in a linear fashion, my discussion of the FM band is perhaps better accomplished by grouping owners together. (WARNING: this is more complicated tracing a family tree, you WILL need a dance card to keep track of all the participants.)
---
CITADEL – KUBL and KKAT (a tale of two country stations)
In addition to three AM signals (860, 1230 and 1320) Citadel owns five FM stations making them one of the largest group owners in the market. Citadel entered Salt Lake in the late 80s with their purchase of the KWHO stations (860 and 93.3) from attorney Reese C. Anderson and the FM call letters were changed to KLZX (call letters now assigned to a station in Logan). The format was classic hits and later classic rock as the station evolved into "Z93", a competitor to "Rock 103" (KRSP). This battle grew increasingly competitive and Citadel hired away KRSP's morning team of Jon (Carter) and Dan (Bammes), but in 1993 they abandoned rock and changed format to country. Using the same template as in other markets, Citadel launched "K-Bull 93" and over the past decade it has become Utah's leading country station.
In May 2004, Citadel acquired 101.9 KKAT from Clear Channel and closed the book on twenty years of KKAT's history as a country station. In the early 1980s two Ogden FM stations, KDAB (at 101.1, what is now KBER) and KZAN (at 97.9, what is now KBZN) were allowed to relocate their transmitter sites to Farnsworth Peak, the common tower site for Salt Lake City's FM and TV stations in the Oquirrh mountains. Theirs was an early landmark "Arizona waiver" case that allowed stations to expand their signal coverage into adjacent larger cities. An Ogden doctor and his wife operated KBOC, later KQPD at 101.9 for many years as a "beautiful music" station for Ogden, but when the station was finally sold in 1984 it also moved to Farnsworth Peak. One of the principals was Terry McWright, who came from a rock station in Oklahoma and held an interest in classic rock KKLZ/Las Vegas. Market speculation was that the format for 101.9 would be rock but when KKAT launched in 1984 it was with a hybrid AC/country format. Within a year, however, the songs of Seals and Crofts and other AC artists were gone and "Kat Country" was a full-blown country station. Through a number of ownership changes (the station was sold to Brown Broadcasting, which also owned KGB/San Diego; then to Regent; then to Jacor, which eventually merged with Clear Channel) KKAT remained a viable competitor until the end of the 90s until Clear Channel's cost cutting strategy led the station to a "more music" image as K102 and virtually all of the shifts were voice tracked. At the end of 2003, Clear Channel sold KKAT and the 94.9 frequency to Marathon and the KAT briefly resurfaced until Citadel purchased KKAT. The KKAT call letters were transferred to Citadel's 860 AM, and 101.9 has been re-launched as a pop CHR station (KPQP, or "Pop 101.9").
---
CITADEL – KBEE-FM
In 1947, Salt Lake City had only two commercial FM stations…at 100.3 (Bonneville's KSL-FM) and 98.7 (what is now KBEE-FM). In the early 1970s, KCPX-FM (at 98.7) was known as "Stereo X" and was the home of a wide-ranging free-form album rock format…but under the direction of KCPX Program Director Gary Waldron, by the end of the 70's the station had evolved into "Real Rock 99 FM". The playlist was short (only a couple hundred songs) and it quickly became the market's top-rated station, combining the laid-back presentation of album rock with tight top 40 rotations a decade before Pirate Radio spawned the term "Rock 40". As the 80's began, the station hired a full staff of announcers and "99FM" continued to dominate the market. I was fortunate enough to hold the 7-midnight shift for nearly four years, until the musical pendulum swung back toward pop music and the station evolved again. By 1984 there was a new crew of jocks, the format was CHR and "Hitradio 99" again dominated the market. Screen Gems/Columbia Pictures had owned the KCPX stations (AM, FM and TV) for a number of years but sold the TV station in the mid 70s. In the mid 80s they sold the radio stations to John Price, a Salt Lake based contractor best known for building massive shopping malls. Under Price, the station evolved into "Power 99" and finally to AC as KVRY (Variety 98.7). The historic KCPX letters were parked on a small AM station in Centerville for about twenty years (more on that later). Price eventually sold the stations to Citadel; the format remained AC but the call letters were changed to KBEE (B98.7), which is how the station is known today.
---
CITADEL – KBER
During the 1970s, Starley Bush and Paul Droubay split their partnership and went their separate ways. Bush continued to operate KSXX-AM while the Droubay family launched KDAB-FM in Ogden at 101.1. I believe originally the call letters stood for "Droubay and Bush", but the station was known as "B101" for about 15 years (and KDAB was one of the first two stations in the market that successfully maneuvered itself into the city by moving its transmitter site to Farnsworth Peak). I was out of the market during much of the 90s when the Droubay family eventually sold the station, but it was Chris Devine's Marathon who moved the KBER call letters and the rock format from the weaker 106.5 signal to 101.1 when they acquired the property. Citadel purchased the station in the mid 90s and KBER has been the market's dominant rock voice for nearly two decades (across two frequencies, the original 106.5 and today's 101.1).
---
CITADEL – KENZ
At 107.5, KENZ is only one of two FM signals that still originate from Lake Mountain in Utah country (94.9 is the other). Through various facility changes, two other Lake Mountain FMs (96.1 and 106.5) have both moved 40 miles north to sites in the Oquirrh mountains. Lake Mountain signals do not cover the entire metro; they are particularly weak to the north (Weber and Davis counties) and the eastern part of Salt Lake County. Despite signal limitations, "The End" has carved out a niche for itself with a unique adult alternative format. I recall the original call letters were KABE when the station began in the early 80s as alternative. It became AC "Magic" (KMGR) for a time but during the 90s Richard Rees and Biff Raffe (a.k.a. Bruce Jones) who had worked together at a couple of other stations in Salt Lake launched "The End" and eventually sold the station to Citadel.
---
CLEAR CHANNEL – KZHT and KISN
97.1 is Salt Lake's third-oldest commercial FM signal. KLUB-FM signed on in 1961 with a "beautiful music" format but when FM listening levels surpassed AM in the early 1980s the call letters were changed to KISN (made available by the demise of Don Burden's station in Portland) and the format was changed to AC. "Kissin' 97" existed for about 20 years under several owners (Frank Carman sold to San Diego-based Sun Mountain, which sold to Chicago-based Trumper, who sold to Clear Channel in 2000)…and through much of that run the station was anchored by the morning team of (Scott) Fisher and Todd (Collard). Fisher and Todd (later joined by Erin Frazer, who married Todd) gave the station a larger-than-life image, but after Todd and Erin left to join B98.7 for mornings Clear Channel struggled to find a suitable partner for Fisher. From top 40 KFMY in the early 80s, Scott Fisher has been a morning fixture for more than twenty years, moving from KISN to Star 102.7 and most recently to 107.9.
Through the final years of the Fisher, Todd and Erin morning show, KISN's format underwent some major adjustments. The station had always been a female-leaning AC or CHR station, but shortly after purchasing KISN Clear Channel changed format to a rock-based and male-leaning 80s format and the ratings declined. As interest in the 80s music waned KISN returned to its AC roots but the damage had been done and the station was unable to recover. Clear Channel then dropped the "Kissin'" name and re-launched the station under the "KISS" brand as a hot AC, but by early 2004 threw in the towel and moved CHR KZHT from 94.9 to the better 97.1 frequency when they sold 94.9 to Marathon. Today the KISN call letters reside on another Clear Channel station in Montana, and Entercom's Portland oldies station that identifies as "Kissin'" is legally KKSN.
The roots of KZHT can be traced to the early 1980s, when the Grow family (which owned KEYY-AM in Provo) began building a FM station at 94.9. The family eventually sold the AM to one party and the FM to another. During the 80s 94.9 was owned by Eric Rhodes (who now publishes Radio Ink magazine) and an incredible list of talents worked there at various times (including Kidd Kraddick, Sean Demery and the late Jay Stone). Under the call letters KLRZ, it was an AC known as "Color 95" but later evolved into CHR as "Z95". In the 90s the station was sold to another investor, the format was changed to "new age" and the call letters to KTOU ("The Touch"). After an unsuccessful year or two, the format wheel was spun again…and KZHT "Hot 94.9" was born in early 1989. When Jacor (later Clear Channel) acquired the station in the late 90s they attempted to improve the signal with a booster on 94.9 and translator at 97.5…and despite an impaired signal, 94.9 ZHT was the top-cuming station in the market and often ranked in the top 3 12-plus.
---
CLEAR CHANNEL – KODJ
KALL-FM signed on in the late 60s at 94.1. Through much of the 70s the FM was simply a simulcast of KALL-AM's morning host Tom Barberi and the rest of KALL-AM's programming. By the early 80s KALL-FM became a personality-based AC under the call letters KLCY ("Classy 94")…and in the 90s changed to what it is today, KODJ (Oldies 94.1).
---
CLEAR CHANNEL – KJMY
Licensed to Bountiful, this station originally signed on in the late 80s as a soft AC with the call letters KLVV (for K-LOVE) and was operated by Starley Bush (who also owned AM 630, talk formatted KTKK). In the early 90s the format changed to Top 40 and re-launched as KUTQ (Q99). Jacor acquired the station in 1996 and changed formats again with the call letters KURR and it evolved into a hard-edged "classic rock that really rocks" station. "Rock 99" achieved its best ratings with the Mick and Allan morning show under Jacor's ownership but has struggled for many years; in late 2004 it became "My 99.5-Familiar New Rock and Retro Classics" with the call letters "KJMY".
---
CLEAR CHANNEL – KOSY
I do not recall exactly at what point during the 1980s that a station first appeared on the 106.5 frequency. Licensed to Spanish Fork (south of Provo) the original frequency was 106.3 but changed to 106.5 when the transmitter site was moved to Lake Mountain. While the signal covered all of Utah and most of Salt Lake County it did not effectively reach Davis or Weber counties. 106.5 was the original home of KBER for several years (which later moved to the better 101.1 frequency) and I recall a sports format on the frequency for a short period of time. In the 90s 106.5 was home to an oldies format (KQOL, or "Kool"), beautiful music for a few minutes and a couple of different incarnations of country (KUJJ, or "JJ" modeled after Portland's KWJJ, and KBKK, or "K-Buck") before Jacor traded it to Trumper for 570 AM. In early 1998 I was hired to program the new soft AC format when the station launched as KOSY (Cozy) 106.5. The music was heavily weighted toward the 70s and featured the vocals that originally had been staples on stations (like FM 100) that had evolved from beautiful music to AC; core artists were Neil Diamond, Barbara Streisand, the Carpenters, Bread and Barry Manilow. It was determined that a signal upgrade was possible and the transmitter site could be moved 40 miles north to the Oquirrh mountains (this was accomplished in about 2002). For several years however the station simulcast on 106.9 KRAR (licensed to Brigham City) to fill in 106.5's signal gaps in Weber and Davis counties (however since both towers were 50 miles away from downtown Salt Lake City building penetration was a problem.) Despite the dual addresses (106.5 and 106.9) within two years KOSY was ranked #2 in women 25-54 and top five in adults 25-54. Trumper sold the station in late 2000 to Clear Channel, who focused on KISN and automated KCPX and KOSY (eliminating all live personalities). The station's ratings have been inconsistent since then.
---
CLEAR CHANNEL – KXRV
Licensed to Centerville, this station was originally was co-owned with 1600 AM. During the 80s 105.5 was KCGL, Salt Lake's first "modern music" station (the forerunner of today's "alternative" format). Most of the staff defected to KJQ by the end of the 80s and the station was country (KBKK, or "K-Buck") for a time before moving to Farnsworth Peak (at 105.7), changing calls to KUMT ("The Mountain") and adopting an eclectic classic rock-triple A format. By the end of the 90s, "The Mountain" had passed into the hands of Chicago-based Trumper and was adrift with little format direction, somewhere between AAA and modern AC. This lack of definition translated into low ratings and in spring 1999 it was re-launched as KCPX playing the classic top 40 hits of the 70s. The same jingle package that the original KCPX-AM had used in the mid-70s (Jam's "Priority One") was brought back and for a couple of years the station challenged KRSP (Arrow 103.5) for the classic hits/classic rock audience. There is, however, one constant in Salt Lake City and that's change. When Trumper sold the station (along with KISN and KOSY) to Clear Channel, KCPX was fully automated and became more of a pure classic rocker for a year or so and then changed to alternative rock "Channel 105.7". Despite a competitive signal, no format on this frequency (except the initial launch of the classic hits format) has enjoyed consistent ratings success (KCPX debuted #4 in adults 25-54, then trailed down as programmers, ownership and formats changed). In late 2004, Clear Channel changed the format back to AAA with new call letters (KXRV, "The River"). Keeping the wilderness theme, after "The Mountain" and "The River", what's next…"The Stump"?
---
BONNEVILLE – KSFI
The original KCPX-FM (at 98.7) and KSL-FM (at 100.3) were the first FM signals in Salt Lake and both stations went on the air in 1947. The broadcasting arm of the LDS church, Bonneville owned their maximum number of stations in the late 70s and chose to sell KSL-FM to Simmons to acquire another FM and remain in compliance with the 7-7-7-ownership rule. Always known as "FM 100", the legal calls were changed to KSFI following this sale ("Simmons Family Incorporated") however Arbitron was forced to develop a protocol for ascribing credit for mentions of "KSL-FM" that continued to appear in diaries for more than another decade. By the early 80s, as overall FM listening levels passed AM, FM 100's format was gradually modified. The mostly instrumental "beautiful music" was supplemented by hit vocal versions of songs by the Carpenters, Barbra Streisand, Neil Diamond and Barry Manilow and by the late 80s the station had evolved into a full-fledged mainstream AC. KSFI and KSL have consistently been near the top of the market ratings for over 20 years. In 2003, Simmons sold many of their stations to Bonneville (including KRSP, KQMB and KSFI) returning the frequency to its original license holder (although the call letters remain KSFI).
---
BONNEVILLE – KRSP
Brothers Art and Ralph Carlson (who also operated A&R Meat Company) signed on KRSP-AM in 1966 and KRSP-FM in 1967 as vehicles to advertise their meat company. Until about 1980, KRSP-FM was a top 40 competitor to KCPX-AM and in the early 80s "Rock 103" was an album-rock competitor to KCPX-FM. It wasn't until the mid 80s, however, when the station had an established morning show (Jon and Dan) and virtually no rock competition that KRSP became a consistent ratings winner. When the Carlson family began selling their broadcast properties, the station passed into the hands of Simmons and in the early 90s adopted the "All Rock and Roll Oldies" format. Today "Arrow 103.5" features a classic rock format under Bonneville's ownership.
---
Licensed to Midvale, KQMB signed on in 1985. I don't remember much about the early days of this station's programming but through the 90s under Simmons' ownership (and under Bonneville since 2003) "Star 102.7" has carved out a niche for itself as a Hot AC station.
---
SIMMONS – KXRK
Originally the FM counterpart to KOVO-AM in Provo, this station targeted Utah County listeners and advertisers as KFMC until it was purchased by First Media in the mid 70s. Despite a transmitter site on Lake Mountain (which resulted in signal gaps over much of Salt Lake County) "K-96" was a moderately successful contemporary music station for a number of years. The call letters changed every few years (KAYK from 1976-86, KFMY from 1986-88, KZOL from 1988-92) until they were finally changed to the present KXRK in 1992, when the station was purchased by Acme Broadcasting. The principal investors behind Acme were Jim Facer (who had been sales manager for alternative KJQ) and Jim McNeil (the promoter who owned United Concerts); under their leadership virtually the entire staff of KJQ relocated overnight and X-96 was born. During the 90s the frequency was shifted from 96.1 to 96.3 and the transmitter was moved to a site in the Oquirrh Mountains west of Salt Lake, giving the station a competitive signal over the entire market. Acme sold the station to Simmons but much of the staff remains today, which is a large part of why the station is still a dominant ratings force and one of the nation's leading alternative stations. One of the main ingredients to the success of X-96 is the "Radio From Hell" morning show. Kerry Jackson and Bill Allred have been at X-96 for 13 years but they began doing mornings together at KJQ in 1986, making their run one of the longest in Salt Lake radio history.
---
SIMMONS – KJQN
Although the KJQN calls today reside at 103.1, the history of this station begins in 1983 when a Texas investor named Garrett Haston who held the 95.5 license partnered with SGS Broadcasting (owners of KJQ-AM) to complete the construction. When the station signed on as the FM simulcast partner of Ogden's KJQ-AM, the transmitter site was (and still is) on Little Mountain west of Ogden, the original site of KVOG-TV (channel 9) in the 60s. By the time I became Program Director of KJQN AM and FM in 1984, the stations had separate formats and "95-and-a-half" KJQ-FM was a top 40 station until 1988, when the format was changed to alternative. Because the 95.5 main signal only effectively covered Weber and Davis counties (representing about 25% of the metro population), translators were added at 92.7 to cover Salt Lake City and somewhere farther up the dial to cover Utah county. By the early 90s KJQ had become a very successful alternative station so Mr. Haston bought control from SGS, changed format to a hybrid top 40/alternative called "The Killer B" (KKBE) and most of the staff defected to X-96. After filing bankruptcy, the stations were sold to Bible Broadcasting and the call letters were changed to KYFO (interestingly, the 1490 and 95.5 stations still operate from their original studio and transmitter sites and have since signing on). Simmons resurrected the KJQN call letters and launched a "classic alternative" format on 100.7 in 2001 but this frequency (licensed to Brigham City, 40 miles north of the metro) also has a marginal metro signal. A series of translators on a variety of frequencies were used to bring the signal into Salt Lake City. At the end of 2004, the KJQ calls and format were moved to the 103.1 frequency (licensed to Coalville, east of Park City and also outside the metro) and a series of on-channel boosters and translators make this effectively a metro frequency (shoehorned midway between KQMB and KRSP). The main transmitter site is Humpy Peak (close to Evanston); I find it truly amazing (and a marvel of modern engineering) that so many stations just happen to have weak coverage areas in the Salt Lake metro, some 50 miles from their community of license. In January 2005, the format was changed to the eclectic "Jack FM" format…the jury remains out as to whether or not this will be a ratings success.
---
SIMMONS – KEGA
The 101.5 frequency (licensed to Oakley, also some 50 miles outside the metro) originally launched as "The Peak" in 2000; upon switching to country in 2003 it became "The Eagle" and is also simulcast on the 100.7 Brigham City and the 105.1 Manti frequencies.
---
MARATHON – KUUU
For most of the years from the late 70s through the late 90s, the 92.1 frequency was licensed to Tooele and KTLE (also KMGR) served this small community on the west side of the Oquirrh mountains from Salt Lake City. Marathon (under the DBA of Millcreek Broadcasting) acquired the station in 1999, changed the call letters to KUUU (U92), the format to hip hop and moved the transmitter site to better serve Salt Lake. The agenda always was to maneuver this "rimshot" signal into the metro, and that was officially accomplished in early 2005 when the C3 92.5 frequency was reassigned to South Jordan (in Salt Lake county) and simulcast partner KTCE/Payson moved from 92.3 to 92.1. To cover the entire metro, U92 also is simulcast on KRAR/Brigham City at 106.9.
---
MARATHON – KUDD
The 107.9 frequency has always been licensed to Roy (suburban to Ogden) but by my count has been home to about a dozen call letters over the past 20 years. Originally it was KRGO-FM, a companion country station to KRGO-AM, and although coverage in Weber and Davis counties was excellent the transmitter site some 50 miles north of Salt Lake City provided spotty signal coverage in the most populated county of the metro. Unable to compete as a country station, the format was changed to oldies and the call letters to KRPN ("WKRP in Salt Lake City") in 1986. I don't remember the progression of formats through the 90s, but the call letters were KZQQ (1992), KRGQ (1993-94), KRGO-FM (1995) and KRKR (1996). Trumper acquired the station In early 1998, changed the format to nostalgia and the call letters to KSNU ("Sunny 107.9"). When this experiment proved to be a financial error, KSNU became a simulcast of KOSY until a trade was engineered to swap the 107.9 and 106.9 facilities. Since both stations shared the same transmitter site, the coverage was virtually identical…but KRAR at 106.9 was licensed to Brigham City, approximately 20 miles north of Roy…a critical distance in moving the 106.5 transmitter site north. For approximately two months in early 2000, the 107.9 frequency was home to "The Edge" (a hit-based alternative format brilliantly programmed by market veteran Gary "Wooly" Waldron) until ownership passed to Marathon/Millcreek and the station was re-launched as oldies KFVR ("The Fever"). Approximately a year later it changed again to top 40 as KUDD (originally "Diana 107.9", then "Power 107.9"). In March 2005, the station changed again to "107.9 The Mix" and revived the Fisher and Laura morning show (formerly on Star 102.7). The main 107.9 frequency reaches Salt Lake City with on-channel boosters and simulcasts on 103.9 KUDE/Nephi to serve Utah county.
---
MARATHON – KHTB
The history of the 94.9 frequency is outlined above under Clear Channel's KZHT; since acquiring the frequency in early 2004, it has been active rock "The Blaze".
---
BUSTOS – KDUT and KRMF
Bustos Media owns stations in five western states; their Utah properties are 1600 KRDD-AM (licensed to Centerville), 102.3 KDUT (licensed to Randolph) and KRMF (licensed to Evanston). The two FM stations' transmitter sites are on Humpy Peak (south of Evanston) and will reach Salt Lake City via on-frequency boosters. "La GranD" (KDUT) targets 18-49 year olds of Mexican origin; at the time of this writing KRMF is testing, rumors about new call letters KBMG and the "Magica" format continue to circulate in the market.
---
KSOP INC.
Only one Salt Lake FM station has never changed hands; the family of Henry Hilton signed the station on in 1964 as a country music station. According to the station's website all of the weekday announcers have a minimum of 18 years of service with the station. Morning announcer Country Joe has been at KSOP for an amazing 32 years and was inducted into the Country Music DJ Hall of Fame in 2001.
---
CAPITOL BROADCASTING – KBZN
Just as FM 100 has recently returned to its original owner, KBZN "The Breeze" returned to its original owner in 1990. A few years after his father Arch Webb sold KVOG-AM in the late 70s, John Webb launched a new Ogden FM at 97.9. KZAN was a country station until it was sold in the late 80s and the format changed; unfortunately the new owners defaulted on the purchase and after a couple of years John again assumed control of the station, changed the call letters and format to smooth jazz.
---
Believe it or not, there are even more "rimshot" signals from as far away as Logan and Delta that reach part of the metro that I haven't mentioned but these are the major players that consistently generate ratings. But if that's not enough, Marathon/Millcreek has proposed nearly two dozen changes that would change the FM landscape and further crowd the Wasatch Front radio dial:
v KXRV/Centerville moves from 105.7 to 105.9
v KOSY/Spanish Fork moves from 106.5 moves to 106.7
v KRAR/Brigham City moves from 106.9 to 107.1 and changes city of license to Henefer UT
v KNJQ/Manti moves to Kaysville still at 105.1 (that's a 145-mile move!)
v KENZ/Orem stays on 107.5, changes city of license from Orem to American Fork and moves to Farnsworth Peak
v KUDD/Roy stays on 107.9 but changes city of license to Randolph to become Randolph's 2nd station with KDUT 102.3
v KRMF/Evanston moves from 106.1 to 106.3
v KDWY/Diamondville WY moves from 105.3 to 105.5 and changes city of license to Oakley UT for another SLC rim shot
v KUUU at 92.5C2 (recently moved from Tooele) downgrades to a class A to help accommodate the above changes
v KBNZ/Tremonton moves from 104.9 to 104.7 (another SLC rim shot)
v KTPM/Franklin ID at 97.5 has received a CP to move to Humpy Peak with a new city of license of Coalville
The 1968 Salt Lake City commercial FM radio dial
93.3 KWHO-FM
94.1 KALL-FM
96.1 KFMC (Provo)
97.1 KLUB-FM
98.7KCPX-FM
100.3KSL-FM
101.9 KBOC (Ogden)
103.5 KRSP-FM
104.3 KSOP-FM
---
The 2005 Salt Lake City FM commercial radio dial (above 92 mHz)
92.1 / 92.5 KUUU "U92" (rhythmic CHR, owned by Marathon, also on 106.9)
93.3 KUBL "K Bull" (country, owned by Citadel)
94.1 KODJ "Oldies 94.1" (oldies, owned by Clear Channel)
94.9 KHTB "Hot 94.9 The Blaze" (rock, owned by Marathon)
95.5 KYFO (Ogden, religious)
96.3 KXRK "X96" (alternative, owned by Simmons)
97.1 KZHT "97.1 ZHT" (CHR, owned by Clear Channel)
97.9 KBZN "The Breeze" (smooth jazz, owned by Capitol Broadcasting)
98.7 KBEE "B98.7" (AC, owned by Citadel)
99.5 KJMY "My 99.5" (rock, owned by Clear Channel)
100.3 KSFI "FM 100" (soft AC, owned by Bonneville)
100.7 KEGH "The Eagle" (Brigham City, owned by Simmons–simulcast of 101.5)
101.1 KBER "K-Bear" (active rock, owned by Citadel)
101.5 KEGA "The Eagle" (Oakley-country, owned by Simmons)
101.9 KPQP "Pop 101.9" (CHR, owned by Citadel)
102.3 KDUT "La Gran D" (Randolph-Spanish, owned by Bustos Media)
102.7 KQMB "Star 102.7" (hot AC, owned by Bonneville)
103.1 KJQN "Jack FM" (Coalville-whatever, owned by Simmons)
103.5 KRSP "Arrow 103.5" (classic rock, owned by Bonneville)
103.9 KUDE "107.9 The Mix" (Manti-simulcast of 107.9)
104.3 KSOP (country, owned by KSOP Incorporated)
105.1 KNJQ "The Eagle" (Manti-simulcast of 101.5)
105.7 KXRV "The River 105.7" (AAA, owned by Clear Channel)
106.1 KRMF (Evanston-new signal, owned by Bustos Media)
106.5 KOSY (soft AC, owned by Clear Channel)
106.9 KRAR "U92" (Brigham City-simulcast of 92.5)
107.5 KENZ "The End" (AAA, owned by Citadel)
107.9 KUDD "107.9 The Mix" (CHR, owned by Marathon)
A major source for information included in this article, in addition to my (Paul Wilson) personal memories, was Utah Broadcasting History by Larson & Avery.
My thanks to Paul Wilson for his help on this page!