The Story of Mt. Wilson, California
Part 3--Broadcasters Invade
Benjamin's Mountain
By Marvin Collins
Television in Los Angeles started in the early thirties with Harry Lubke, physicist and engineer for Don Lee, working on a project that in 1938 turned into a television station at Seventh and Bixel in downtown Los Angeles. This experimental station, W6XAO on Channel 2, was moved to Mt. Lee above Hollywood in 1940. This same year saw probably the first Los Angeles FM station, K45LA on 45.5 megahertz, go on the air, also from Mt. Lee.
Klaus Landsberg put KTLA on the air from the Paramount lot on Melrose Ave in 1939. World War II brought further television activity to a halt in Los Angeles. After the war better transmitter locations were needed and attention was turned to Mt. Wilson and KTLA Channel 5 moved there in 1947, becoming the first television station to broadcast from Mt. Wilson.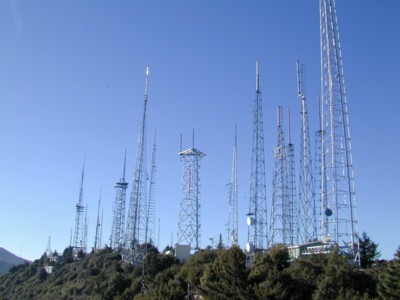 Mt. Wilson antenna farm. Click here to see larger version.

Don Lee, a Cadillac automobile distributor, continued with his experimental W6XAO Channel 2 on Mt. Lee. Earl C. Anthony, a Packard motor car distributor and owner of KFI, after some field testing from Mt. Wilson, built KFI-TV and signed on from Mt. Wilson on August 25, 1948 with regular programming using an RCA TT5A transmitter on Channel 9. The transmitter log shows that earlier on June 23, 1948 a test pattern aired from 9:51 pm to 11:35 pm. Earl C. Anthony was a friend of Mr. Childs of the Mount Wilson Hotel Company. This facilitated the purchase of the land necessary for KFI-TV. KFI-AM was an NBC affiliate, so it was only natural that KFI-TV ran the NBC kinescope film network shows. The cross country microwave network feeds had not yet reached the west coast. The Program Log Book shows equipment in the TV truck was used to pick up programs from August 25, 1948 to October 6, 1948. On October 6, 1948 the KFI-TV studio at 141 South Vermont was first used.
From the same Mt. Wilson location KFI-FM operated with a General Electric three kilowatt Phasotron transmitter operating into a two bay antenna for an ERP of 10KW on 105.9 megahertz. KFI-FM was the first FM station on Mt. Wilson, having signed on the air on July 15, 1946 with program test.
Late in 1948 NBC signed on as KNBH on Channel 4 from Mt. Wilson on land purchased from Mr. Childs of the Mount Wilson Hotel Company. Years later KNBH became KNBC as we know it today. The same year saw CBS join with the Los Angeles Times in a joint venture to put KTTV Channel 11 on the air.
Meanwhile back on Mt. Lee, W6XAO had become KTSL, named for Thomas S. Lee, son of Don Lee. KTSL was still on Channel 2. Don Lee saw the handwriting on the wall that television was going to be transmitted from Mt. Wilson. Also Don Lee, the Cadillac distributor, probably did not want to be outdone by Earle C. Anthony, the Packard distributor. Don Lee acquired land west of Mt. Wilson in what was called the Deer Park area and built a television plant complete with an RCA TT5A transmitter like Earle C. Anthony had for his Channel 9. Before Don Lee could move his KTSL to the Mt. Wilson Deer Park area, he passed away.
Shortly after his death, CBS and the Los Angeles Times decided to part company at KTTV Channel 11. Earle C. Anthony was having union problems at his KFI-TV Channel 9 and had not made money with KFI-TV. The changes were now rapid. Earle C. Anthony sold KFI-TV to the Don Lee company and KFI-TV became KHJ-TV on September 6, 1951. KFI-FM was turned off April 5, 1951 and the license was returned to the commission for cancellation. The old K45LA FM station in downtown Los Angeles became KHJ-FM on 101.1 megahertz. This call sign later was changed to its present KRTH-FM. KTSL Channel 2 on Mt. Lee was sold to the Columbia Broadcasting System when Don Lee bought KFI-TV Channel 9. CBS changed the KTSL call sign of Channel 2 on Mt. Lee to KNXT. In 1950 CBS bought the intended KTSL Deer Park property on Mt. Wilson and moved KNXT Channel 2 to that location, where Channel 2 still operates. CBS changed the KNXT call to KCBS many years later.
Early in 1949 ABC signed on KECA-TV Channel 7. This call sign was later changed to KABC. At the same time KLAC Channel 13 signed on from Mt. Wilson. They were in a hurry to begin broadcasting and at first they had a tent over their building which was still under construction when they signed on. At first Channel 13 did not have commercial power. They generated their own power with their emergency generator for a short period of time until Southern California Edison could reach them. KLAC TV Channel 13 later was sold to Copley and the call sign was changed to KCOP.
It is interesting to note that until early 1949 the Southern California Edison Company supplied 50 Hertz power to Mt. Wilson. In its early days KFI-TV had a rotary convertor to convert the 50 Hertz power to 60 Hertz power. Frank Grill, who started at Channel 9 as a KFI-TV employee and was a KHJ-TV (now KCAL-TV) employee, remembers having to maintain the rotary power convertor.
In 1963 Metromedia Inc. purchased station KTTV. The station owned its transmitter and tower on Mt. Wilson but not the land on which they stood. Metromedia wanted to buy the land, about three acres. The answer was a qualified no. They could not buy just this parcel. They had to buy the whole 720 acres. So in 1964 Metromedia purchased all of the remaining available Mt. Wilson property from Mrs. Albert Childs, daughter of A. C. Childs, who died in 1951. The long saga of the Mt. Wilson Toll Road (later Hotel) Company came to an end.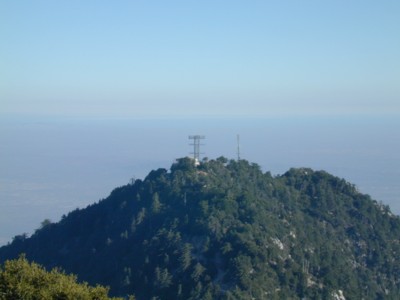 Mt. Harvard as seen from Mt. Wilson.

Where might television have located had Mt. Wilson not been developed by the early mountain pioneers?
The Mt. Wilson Hotel, so long a landmark on the mountain top, is gone. Under forest regulations, the old buildings couldn't be burned or heaved over the side, so Metromedia had them dismantled and carried away piece by piece. Metromedia replaced them with Skyline Park, complete with a pavilion, a children's zoo and landscaped walks. Skyline Park opened to the public on June 6, 1967. Only the observatory domes and towers remain unchanged.
Most of the early endeavors on Mt. Wilson were never financially successful. The Mt. Wilson Toll Road was more a labor of love than a money making enterprise. Skyline Park proved to be no exception. It was closed on January 1, 1976 after Metromedia decided to cut their eight and a half years of losses. It was turned over to the Forest Service by Metromedia, except for the three acres they originally wanted to buy. Now the area is again open to the public on weekends only.
---
Marvin Collins was Chief Engineer with KFI and KOST radio in Los Angeles until his retirement in September 2000. He took the photographs in 2000.